Country Life for Friday 2 October 2009
Susi White - a self-confessed "Granny of health foods" - has owned and operated Homestead Health in Wellington for 35 years. But a more recent passion is lavender oil. We visit her farm and talk about lavender, distillation and all the awards she's won for her oil.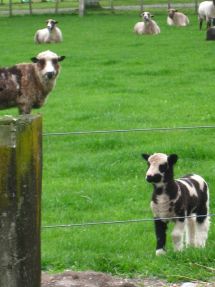 Susi White's prize winning lavender oil farm near Te Horo.
South Canterbury Country Life correspondent John Williams' rain gauge showing evidence of the Australian dust storms
Chance to enhance natural 'treasure' of Banks Peninsula
A free learning opportunity to help enhance the "ecological treasure" of plant and animal life on Banks Peninsula is being offered at Akaroa on Thursday 8 October.
It's a Biodiversity Workshop open to everyone interested in improving the natural ecology of the peninsula and it's being held in Akaroa's Gaiety Theatre from 9.00am - 7.00pm.
The workshop, hosted by the Banks Peninsula Conservation Trust and Lincoln University, is especially suitable for farmers and landowners but is open to everyone interested in the enhancement and conservation of the Peninsula's native flora and fauna.
"Banks Peninsula is a unique and valuable ecological treasure," says Lincoln University ecologist Mike Bowie, one of the organisers of the Workshop.
"It is an area where nature and diverse human activity, including farming, fishing, recreation, and habitation, can interact and, with care and knowledge, co-exist successfully."
During the day Hugh Wilson's new book Natural History of Banks Peninsula will be launched and the programme also includes an outside field session (weather permitting) and, at the end of the afternoon, an address by guest speaker Dr Simon Pollard of Canterbury Museum, which will be accompanied by a simple dinner (gold coin donation).
Sessions throughout the day include Farming and Conserving Biodiversity; Conserving Weta and Other Invertebrates: the forgotten fauna; Native Fish: research on Banks Peninsula; the Christchurch City Council Trapping Programme; Threatened Plants; Bush Birds: early findings from surveys; and, towards the end, an open discussion on what can be done to improver biodiversity on Banks Peninsula.
"Come armed with your ideas for the discussion and build on the earlier sessions throughout the day," says Mr Bowie.
In addition to the Banks Peninsula Conservation Trust and Lincoln University, the Workshop sponsors are Christchurch City Council; Ecan; Department of Conservation; and the Josef Langer Charitable Trust.
For catering purposes please register interest with Rachel Barker, Banks Peninsula Conservation Trust Coordinator, telephone (03) 329 6340; email: rachel.barker@bpct.org.nz.