The Ballad of Bantam Billy
The political life and times of Bill Perkins. Audio
Bill Perkins' workmates in a Lancashire coal mine gave him the name Bantam Billy. He was physically small and a fighter - a fighter for socialism which he saw as the only way of alleviating the harsh living and working conditions of the working classes in the 1900s.
Bill saw World War I as an unnecessary conflict generated by capitalism and rather than don the king's uniform he went to jail. In 1929 Bill and his wife Edna found a new life in New Zealand in the coal mining settlement of Millerton on the South Island west coast. They also found a deepening depression and unemployment which drove them back to England.
Almost 20 years later Bill, Edna and children Vera and Jack eventually found the better life they were seeking when they returned to New Zealand in 1950.
The Ballad of Bantam Billy: the political life and times of Bill Perkins, is told by son Jack but also draws on recordings made with Bill and conversations with Bills daughter Vera.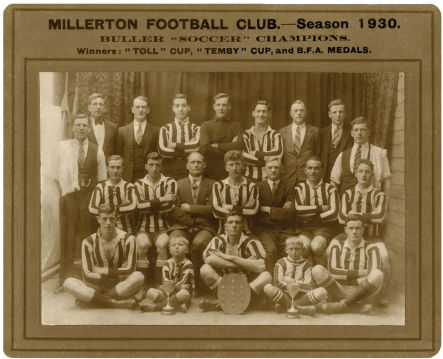 Millerton Football Cub. Bill is in the middle row, far right.