Arts on Sunday for Sunday 16 November 2008
12:40 AK09 Festival
Director David Malacari (left) takes us through the just released programme, tells us how the fourth festival differs from the other three, and how he judge's a festival's success.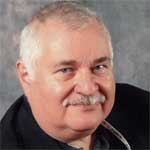 12:50 Carl Gottlieb
Carl Gottlieb (right) wrote one of the scariest screenplays of all time, for Jaws. He's currently in New Zealand and we chat to him about that movie and about writing scripts for the hungry but fickle Hollywood market.
1:00 At the Movies with Simon Morris
1:30 NZ Fashion
Lynn talks to Douglas Lloyd Jenkins and Lucy Hammonds, two of the people researching for a book about New Zealand's fashion designers over the decades.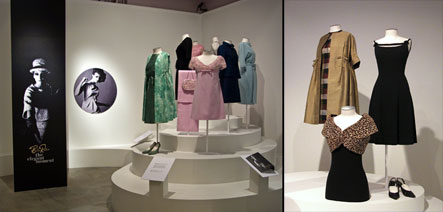 1:40 Janet Dunn
Lucy Orbell meets a fashion recycler.
Pictured below: A look inside Janet Dunn's fashion gallery (below left) and Janet Dunn with her '50's styled dress made from three sleeping bags!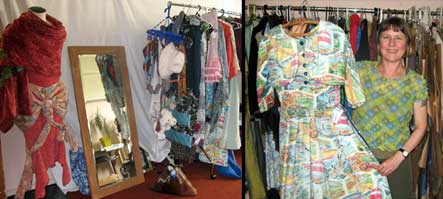 1:50 Cartoon Conference
Sean McKenna meets some of the world's most courageous cartoonists at a conference in Wellington.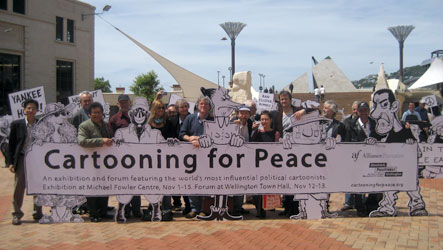 2:00 The Laugh Track
Artist, graphic designer, musician, radio and TV personality - Otis Frizzell shares his comedy picks.
2:20 Theatre review
Gilbert Wong reviews Dean Parker's theatrical adaptation of Kafka's (pictured right) novel The Trial.
2:30 Writer's Block:
Mark Sommerset and Rowan (below right) are the husband and wife partnership behind the Cork in the Ocean and now Cork and the Bottle series for children….and Lisa Marr (below left) reintroduces us to Arthur J Rees and his acting troupe of Merry Marauders, 95 years after he released his novel of the same name

2:50 The Frangipani is Dead
Karen Stevenson (left) explains why The Frangipani is Dead, as she studies contemporary Pacific Art in New Zealand.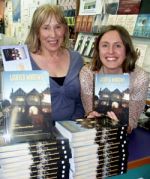 3:00 Lighted Windows
Mary Edmond-Paul offers new insights into novelist, poet and journalist Robin Hyde's life and work, in a book of essays she's brought together called Lighted Windows.
Pictured right: Mary Edmond-Paul with Massey colleague Dr Nicki Hessell, who contributed an essay to the collection.
3:10 Radio Drama: Windows by Lucy O'Brien