Afternoons with Jesse Mulligan for Thursday 12 May 2011
1:10 Best Song Ever Written
Like A Rolling Stone by Bob Dylan chosen by Barry Saunders
1:15 Your Place - Mamaku
2:10 Feature stories
A rat is still on the loose on Rangitoto Island, and that's a worry for the Department of Conservation which is working on turning it into one of the country's largest sanctuaries for endangered wildlife. The rodent was detected thanks to a New Zealand invention that started as a $30,000 project 10 years ago. It's called the Black Trakka and it is now used around the world, not only to pick up the footprints of pests in the bush but to track down endangered species. Warren Agnew inventor of Gotcha Traps.
Marlborough's second oldest church is about to move for the second time in its 130-year life. The Tua Marina Methodist Church has to be relocated to save it from rot and neglect. But the people caring for the old church have to raise $25,000 to cover the cost of the move and a spruce up. Basil Parke is the great grandson of the man who built the church and has been a driving force behind its relocation to save it.
2:30 Reading
Episode 9 of The Orphan Gunner by Sara Knox, read by Deana Elvins.
2:45 Feature Album
Helplessness Bluesby the Fleet Foxes.
3:12 Arts Report
Pacific Sisters was an art collective that played a big part in the Pacific renaissance of the 1990s. Lynn Freeman talks to three of the original members.
3:33 Southern story
The Living in Peace Project aims to use sustainable, carbon-neutral, co-operative business to support creative endeavour. The local backpackers, Rongo ('peace', in te Reo), is the heart and creative hub.
While working as a journalist in Tokyo, Paul Murray - a farmer's son from Kangaroo Island - watched a friend put all his energy and resources into his art, and starving. He resolved to create a sustainable system to support creativity, and chose Karamea to establish it.
Travel, art, permaculture and education are the cornerstones of this unique project, which permeates the small community. Eight years on with plenty left to do, the project is working. And the opening of the Heaphy Track to mountain biking will help fill the seasonal potholes.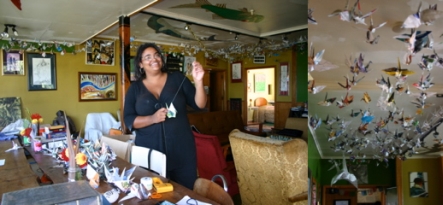 Photographs by Sage Forest.
3:40 Our Changing World
Driving along State Highway 85 - Central Otago's old Pig Route - it would be easy to miss Lauder - if it weren't for a few strange domes and antennae sticking out from the paddocks. NIWA's atmospheric research station, set up in 1961 to study auroras and airglow, is world leading, and Veronika Meduna heads south to the "stargazers" celebrating their golden anniversary with a balloon launch.
4:06 The Panel
Neil Miller and Peter Elliot.