Afternoons with Jesse Mulligan for Thursday 21 October 2010
1:10 Best Song Ever Written: Me and You and a Dog named Boo by Lobo
Chosen by Michael Bygate of Westport.
1:15 Your Place: Mercer
We take the pulse of this small rural community, 60 kilometers south of Queen Street.
2:10 Feature Stories
Politics is in Marlborough District Councillor Graeme Barsanti's blood. He's just returned from a month in Italy, retracing his family roots and made a startling discovery. He's related to Italian political and military hero.,, Giuseppe Garibaldi.
Sleep experts from around the world are gathering in Christchurch to talk about the latest research on sleep health and sleep science. For about half a million New Zealanders, getting a good night's sleep is just a dream. Ground breaking research is being presented over the next three days at the 22nd annual meeting of the Australiasian Sleep Association.
2:30 You Me ... Now
Alice has been partying far too hard and has almost embarrassed herself and her friends. Meanwhile Johno, Terry and Jarrod have decided to get out of town.
2:45 He Rourou
Call it self confidence, call it audacity but a strong sense of self belief is what the tiny Maori language school of Te Ahorangi, near Turangi, is trying to instil in its students. Ana Tapiata talks with principal Chris Winitana about the skills he would like to see in his graduates.
2:50 Feature Album
Our Feature Album is "Room on Fire" - second album for American Garage Rock Revival band, The Strokes. Described by one magazine as a return in a blaze of glory, it had to be good after their highly acclaimed debut - Is This It in 2001 - which NME made Album of the Decade.
3:12 Arts Report
Now on our arts report with Lynn Freeman - we celebrate a 60th birthday.
3:20 Southern Story
In its coal-mining heyday there were over 1200 people in Ohai. Now there's less than 300, with only 12 of the old miners remaining. Sage Forest returns with Laura and Walton Goldsmith, in part two of this story.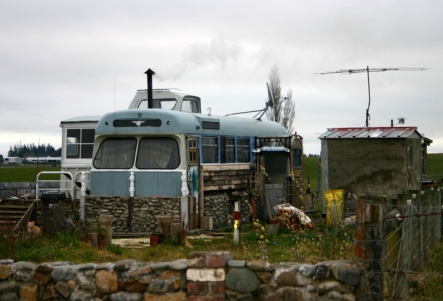 A new Ohai dwelling. Photograph by Sage Forest.
3:35 Our Changing World
With the magic of virtual reality, students at the University of Canterbury may soon be able to train on virtual hearing patients, making it easier from them to master the long and involved process of testing people's hearing.
4:06 The Panel with Jonathon Krebs and Jeremy Elwood