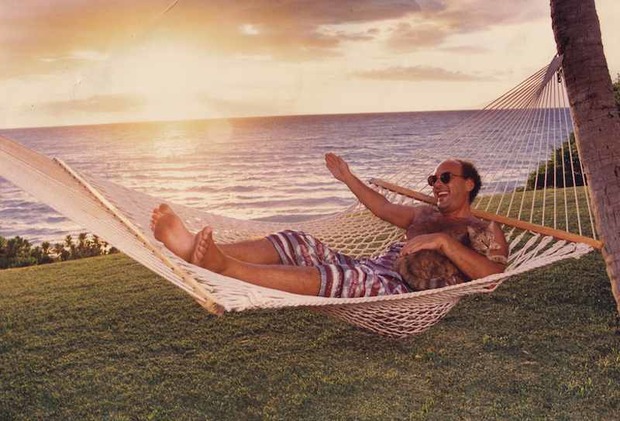 Shep Gordon relaxing at his beachfront Hawaiian home in Maui.
American talent manager Shep Gordon is the subject of a new documentary film Supermensch: The Legend of Shep Gordon, directed by Mike Myers of Wayne's World fame.
Shep Gordon managed an eclectic bunch of clients including Alice Cooper, Anne Murray, Blondie, Teddy Pendergrass and Groucho Marx. Gordon later changed tack, ushering in the era of celebrity chefs for television and following a more spiritual quest.
For Music 101 Trevor Reekie phones Shep Gordon at his home in Hawaii to talk about a career blessed by serendipity, personal charisma and good karma.
Music Details
Artist: Alice Cooper
Song: Hello, Hooray
Composer: Rolf Kempf
Album: Mascara & Monsters: The Best Of Alice Cooper
Label: Rhino Records
Artist: Mascara & Monsters: The Best Of Alice Cooper
Song: Billion Dollar Babies
Composer: Alice Cooper, Michael, Bruce, Reggie, Vincent
Album: Mascara & Monsters: The Best Of Alice Cooper
Label: Rhino Records
Artist: Mascara & Monsters: The Best Of Alice Cooper
Song: No More Mr. Nice Guy
Composer: Alice Cooper, Michael, Bruce.
Album: Mascara & Monsters: The Best Of Alice Cooper
Label: Rhino Records
Artist: Harold Melvin & The Blue Notes
Song: If You Don't Know Me By Now
Composer: Gamble, Huff
Album: The Essential Teddy Pendergrass [Disc 1]
Label: Sony, BMG
Artist: Teddy Pendergrass
Song: Get Up, Get Down, Get Funky, Get Loose
Composer: Gamble, Huff
Album: The Essential Teddy Pendergrass [Disc 2]
Label: Sony, BMG
Artist: Gabby Pahinui
Song: Hula Medley
Composer: Gabby Pahinui
Album: The History of Slack Key Guitar
Label: Hana Ola Records
Artist: Teddy Pendergrass
Song: Life Is A Song Worth Singing
Composer: Bella, Creed
Album: The Essential Teddy Pendergrass [Disc 1]
Label:Sony, BMG