Spandau Ballet formed in London in the late 1970s and were at the forefront of the 'New Romantic' pop culture movement. Inspired by Bowie and Roxy Music, the New Romantic aesthetic was glamorous, and androgynous - frills and quiffs and lashings of eyeliner.  
With their synth-pop sound and crooning vocals, Spandau Ballet had ten hit singles in the UK, along with four chart-topping albums, before an acrimonious break up in 1990. There were disputes about royalties, and a court-case ensued in 1999.  
The five-piece managed to make-up, move on, and reunited in 2009 for a hugely successful world tour.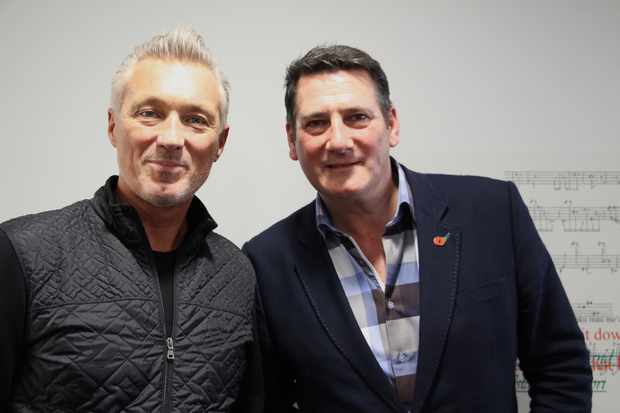 Spandau Ballet's Martin Kemp and Tony Hadley / Photo by Dru Faulkner
They were recently In New Zealand to promote a new documentary called Soul Boys of the Western World. For Music 101, Trevor Reekie talks to vocalist Tony Hadley and bassist Martin Kemp.
Related Audio
Musical Chairs: Richard James Burgess 
Martin Kemp, on Nine To Noon in 2010
Music Details
Artist: Spandau Ballet
Song: Feel The Chant (12")
Comp: Gary Kemp
Album: Diamond Special Edition
Label: Chrysalis Records
Artist: Spandau Ballet
Song: To Cut A Long Story Short
Comp: Gary Kemp
Album: The Very Best of ...
Label: Chrysalis Records
Artist: Spandau Ballet
Song: The Freeze special mix
Comp: Gary Kemp
Album: Journeys To Glory
Label: Chrysalis Records
Artist: Spandau Ballet
Song:
Comp: Gary Kemp
Album: Journeys To Glory
Label: Chrysalis Records
Artist: Spandau Ballet
Song: Journeys To Glory
Comp: Gary Kemp
Album: Diamond Special Edition
Label: Chrysalis Records
Artist: Spandau Ballet
Song: Instinction remix
Comp: Gary Kemp
Album: Diamond Special Edition
Label: Chrysalis Records
Artist: Spandau Ballet
Song: True
Comp: Gary Kemp
Album:True
Label: Chrysalis Records
Artist: Spandau Ballet
Song: Gold
Comp: Gary Kemp
Album:True
Label: Chrysalis Records
Artist: Spandau Ballet
Song: Gold (Live at Band Aid)
Comp: Gary Kemp
Album:Live Aid DVD
Label: Chrysalis Records
Artist: Spandau Ballet
Song: Through the Barricades
Comp: Gary Kemp
Album: The Very Best of ...
Label: Chrysalis Records
Artist: Spandau Ballet
Song: Lifeline
Comp: Gary Kemp
Album: True
Label: Chrysalis Records