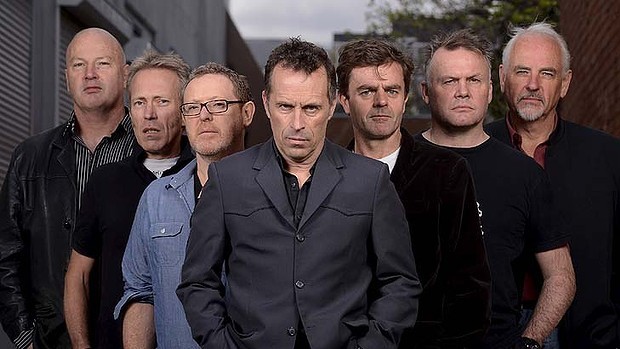 Hunters & Collectors - photo supplied
An iconic Australian band will be over playing a couple of special reunion shows later in the week. 
Formed in Melbourne in 1981, Hunters & Collectors made their mark on the pub circuit through relentless touring and commanding live performances.
Though hit singles were rare for them, Hunters & Collectors recorded thirteen albums before they disbanded in 1998.
Vocalist and lyricist Mark Seymour joins Trevor Reekie to talk about Hunters and Collectors' long and sometimes fractious career.
Listen to Marty Duda's Artist of the Week featuring H&C.
Music Detais
Artist:Hunters & Collectors
Song: Do You See What I See
Comp:lyrics :Seymour. Music ; Hunters & Collectors
Album: Crucible: The Songs Of Hunters & Collectors [Disc 2]
Label:Liberation
Artist: Hunters & Collectors
Song: Talking To A Stranger
Comp:lyrics :Seymour. Music ; Hunters & Collectors
Album: Crucible: The Songs Of Hunters & Collectors [Disc 2]
Label: Liberation
Artist: Hunters & Collectors
Song: Is There Anybody In There?
Comp: lyrics :Seymour. Music ; Hunters & Collectors
Album: Natural Selection
Label: Liberation
Artist: Hunters & Collectors
Song: Throw Your Arms Around Me
Comp: lyrics :Seymour. Music ; Hunters & Collectors
Album: Crucible: The Songs Of Hunters & Collectors [Disc 2]
Label: Liberation
Artist: Hunters & Collectors
Song: Holy Grail
Comp: lyrics :Seymour. Music ; Hunters & Collectors
Album: Crucible: The Songs Of Hunters & Collectors [Disc 2]
Label: Liberation
Artist: Hunters & Collectors
Song: When The River Runs Dry
Comp: lyrics :Seymour. Music ; Hunters & Collectors
Album: Crucible: The Songs Of Hunters & Collectors [Disc 2]
Label: Liberation
Artist: Hunters & Collectors
Song: Say Goodbye
Comp: lyrics :Seymour. Music ; Hunters & Collectors
Album: Crucible: The Songs Of Hunters & Collectors [Disc 2]
Label:Liberation