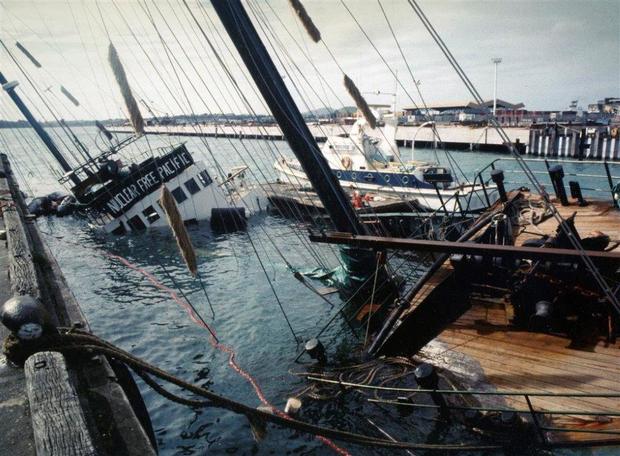 Photograph by Gil Hanly. See a gallery of Gil's photographs.
A discussion marking 30 years since the sinking of the Greenpeace ship Rainbow Warrior in Auckland Harbour on 10 July 1985.
It's part of a Victoria University forum in which lawyer and broadcaster Linda Clark chairs a 30 year retrospective debate featuring key parties in the post sinking arbitrations and negotiations.
including:
Dr Gerard Curry - then counsel for French Army Major Alain Mafart and Captain Dominique Prieur.
Sir Kenneth Keith ONZ KBE QC - then President of the Law Commission, Member of the Permanent Court of Arbitration and arbitrator in the New Zealand v France arbitration.
Bill Mansfield - then New Zealand's deputy permanent representative at the UN, involved in negotiations between the French and New Zealand Governments.
Sir Geoffrey Palmer KCMG AC QC - then Deputy Prime Minister, Attorney-General and Minister of Justice.
Dr Penelope Ridings MNZM - has provided legal advice to the Government since 1988 on legal issues pertaining to international law.
Gary Born was Counsel for Greenpeace in Greenpeace v France, Mr Born  is New Zealand Centre of International Economic Law's Inaugural Senior Visiting Research Fellow as well as a world leading international arbitrator and litigator; a Partner in Wilmer Hale.