West Papuan military commander thanks Vanuatu for support
A West Papuan rebel military leader makes his way to Vanuatu to thank the country for its backing for the push for independence from Indonesia.
Transcript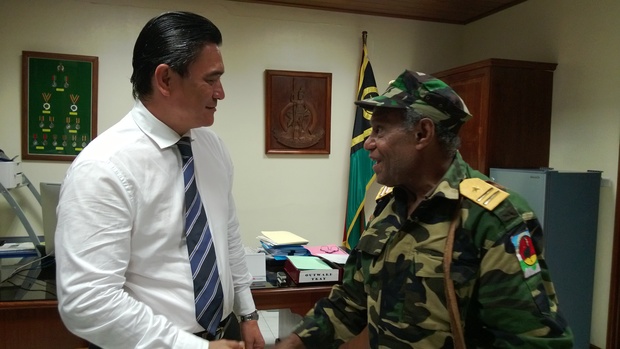 (Vanuatu prime minister Moana Carcasses Kalosil meets Commander Richard Joweni)
The most senior commander in the OPM rebel force in Indonesia's Papua region is in Vanuatu to thank that country for its support for the indigenous people's push for independence.
Commander Richard Joweni slipped surreptitiously out of Indonesia, through Papua New Guinea  to reach Vanuatu.
Spokesman Rex Rumakiek told Don Wiseman why it was important for the commander to get to Vanuatu.
REX RUMAKIEK: Because Vanuatu is the only country that even before independence, an issue that I know very well because I was involved in the independence movement with the OPM. We had an agreement with the Vanuaaku Pati  that if they gained independence first they will help us. We have an agreement. So since then this agreement is still followed through. They even decided, OPM, to open an office in Port Vila and that office is now becoming the international secretariat of the West Papua National Coalition for Liberation.
DON WISEMAN: Commander Jowenii has met with the prime minister and the prime minister of Vanuatu has spoken out strongly in support of Papua and West Papua this year with a strong speech at the General Assembly of the UN. So he clearly is very supportive. What sort of reaction did the commander get?
RR: Not only the General Assembly, but also the CHOGM meeting in Sri Lanka - he spoke there, as well, in support of West Papua. And Commander Joweni that was his main mission to come and take the Vanuatu government for the stand that they have taken, and advise direct to the Vanuatu government that since the decision of the MSG in Noumea on 20 June the people in the country are ready, preparing to welcome the foreign ministers delegation to West Papua. So it's a big issue in West Papua. Everybody is waiting for them to come.
DW: That doesn't appear to be happening in the very near future, does it? Is that a concern?
RR: Yeah, that's a concern. But they said, never mind. First we put it on notice. It's not going to disappear just quietly like that because the people in West Papua are expecting them to visit. So if there is no visit they will still pursue other means to make sure the West Papua issue on the agenda of MSG must remain.
To embed this content on your own webpage, cut and paste the following:
See terms of use.