PNG church disputes politician's call to stem population
The General Secretary of the Catholic Church in Papua New Guinea is disputing a politician's call for the need to stem the number of births in the country due to over-population.
Transcript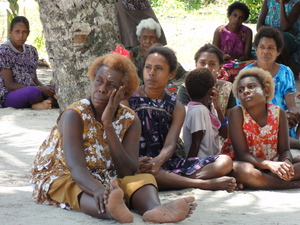 The General Secretary of the Catholic Church in Papua New Guinea is disputing a politician's call for the need to cut the country's birth rate because of rapid population growth.
The Member of Parliament for Sumkar District in Madang Province, Ken Fairweather says population growth in PNG is faster than western nations and essential services such as education and health cannot cope.
Beverley Tse reports:
In 2010 the population in Sumkar grew six percent according to Ken Fairweather. He has rolled out a free contraception programme to slash the number of women giving birth in his district.
KEN FAIRWEATHER: In my electorate this year I'm taking about 300 thousand New Zealand dollars on implants. They're implants in the arm which last for five years. It was about 20 women a day, it's up to about 30, 35 women a day now. So I'm hoping over four years or five years to do about 15 thousand of them.
Mr Fairweather says the government should implement a similar plan across the country.
KEN FAIRWEATHER: I'm saying we need to have a cap on the population of around eight million which is probably what we have about now, and try to limit the birth rate to a sustainable level of one or two percent, which is not sustainable at the moment. And that's the whole point we're all making.
But the General Secretary of the Catholic Church of PNG and Solomon Islands, Father Victor Roche says rapid population growth is not as grave as people think.
VICTOR ROCHE: I think we have proper family care and then there is also sufficient place. It is a problem but I don't think it's such a big problem as it sounds to be. So I think it's still a handleable situation in Papua New Guinea.
Father Victor Roche says contraception is not the answer.
VICTOR ROCHE: In the Catholic church we have lots of awareness going for this natural family planning method and it's going well. And freedistribution of contraception is not the solution. It can be misused.
A spokesperson for the non-government family planning organisation Marie Stopes, Anisha Amete, says the average family in PNG has six children and understands Ken Fairweather's concerns about the pressures this puts on the country's essential services.  She says family planning is a key to controlling population growth.
ANISHA AMETE: The main message we try to bring across is when you take part in family planning, you'll have more food to produce, you have more land to build your children's houses, your children's children's houses, you can better concentrate on one child and then your child can develop properly in terms of being healthy.
Anisha Amete says women and their partners should make the ultimate decision in how many children to have.The MP Ken Fairweather says a parliamentary committee has been established to start addressing PNG's birth control problem and he hopes the government can commit half a billion kina a year to slow population growth.  
To embed this content on your own webpage, cut and paste the following:
See terms of use.