PNG police chief says Australian police mentors gratefully received
PNG's police commissioner grateful to have Australian officers to mentor his mid-level staff.
Transcript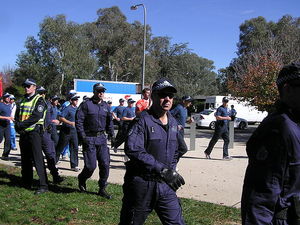 The Papua New Guinea police commissioner, Tom Kulunga, says the Australian Federal Police now working alongside his officers are vitally needed.
30 officers began working in Port Moresby and Lae last week and another 20 are coming next month.
Mr Kulunga says the PNG constabulary, until the last two years, had not recruited new staff, leaving the force depleted and old.
Mr Kulunga told Don Wiseman there is a real need for help in the administration of the police stations around the two cities and this is where the advisors will fit in.
TOM KULUNGA: Those officers will come in and they will be complementing our shift supervisors, those that we have on shifts at those big police stations. Some of the roles would be to help us with mentoring and be able to help us with the preparation of court files and, at the investigation level, with the fraud squad, because we understand that they have a very high standard of fraud investigators and at we believe that them being present will boost the manpower, as well as their own skills that they will impart on our officers.
DON WISEMAN: How are they going to boost manpower?
TK: Well, there's 30 of them, 30 officers are better than nobody at all. From what I know, they are very experienced officers, they're not just any officers. And they've got a lot of experience to impart on our young officers who are at those stations. I am confident they will up-skill our officers at those levels.
DW: They're not going to run the offices, though, are they?
TK: No, they will not be making arrests or prosecuting troublemakers or criminals, if you like to say.
DW: These Australian police, we know that the enhanced co-operation project back in the early part of last decade, that got called off after a court case found that these police could not have immunity from prosecution within the PNG courts. This time round, what's their situation?
TK: I'm not a lawyer, but these issues have been addressed by our lawyers. And, as I said, they've got no powers over there so they'll not be arresting anybody. So both governors have agreed that they be deployed.
DW: So there is no immunity?
TK: No, no such immunity, no. The provisions do protect the officers. But, as I said, I'm not a lawyer to answer those [questions].
DW: The AFP police association in Australia has expressed concern that there isn't immunity - they're worried.
TK: OK. That's for the Australians to comment.
DW: You've got 30 and they'll go up to 50. You'd be looking for a lot more, would you?
TK: We'd be looking for a lot more, but it's only what we get.
DW: Have you asked for more?
TK: That's up at the government level. There is some discussion going on, but I don't know the exact details.
DW: Will the officers eventually move outside of Lae and Port Moresby?
TK: Not at this stage.
DW: And you're expecting them to have a significant impact?
TK: Yes. We need to give it a try. I think we need to crawl before we walk. I'm, personally, positive that the inclusion of AFP officers will have some significant improvement in our general policing here. I'm positive about that. Because this has happened in the past. When they were here for a very short period we saw signs of improvement. So I am positive, otherwise the government wouldn't have gone this far.
To embed this content on your own webpage, cut and paste the following:
See terms of use.