Potential to develop hydroponic farming on Niue
The Agriculture Ministry in Niue says there is potential to develop hydroponic farming on the island.
Transcript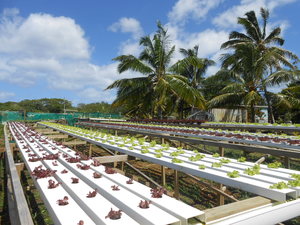 The Agriculture Ministry in Niue says there is potential to develop hydroponic farming on the island.
The Minister Teariki Heather says the practice of growing plants, such as lettuces and cucumbers, in liquid nutrient solutions rather than in soil could reduce the country's heavy dependence on imported produce.
Beverley Tse was in Niue and visited James Douglas, who runs Niue Fresh, one of two hydroponic farms, which started just over two years ago.
JAMES DOUGLAS: I worked for a company in New Zealand called the Fruit Shed. And I got to work with vegetables and delivery, not on the planting side, but on the marketing side. So I learned all that stuff. When I came home I started planting in the soil, but the soil here is terrible. It probably averages about an inch and a half, the amount of soil that we have, top soil. So it's not really conducive to good planting. You've just got to move around with your soil planting. So I decided it will be easier to do it the hydroponics way, but it's a hell of a lot more expensive. Again, we get all our nutrients from New Zealand. They get sent up on a six-month supply that carries us through. We used to have a monthly supply, but we found that if the boat is late or something we get into trouble. So we went on to a six-monthly rotation, which is much better for us. The nutrients, they don't go off, so it's fine. We're about to build quite a big greenhouse in this section here that we've cleared. That will house tomatoes, because tomatoes are huge. And if things go right for us, we might have a look at maybe exporting a little bit if we can. Just see how we go. That's a long-term goal. We'd like to think that we'll get big enough that we can throw some product out there. But, again, only time will tell.
BEVERLEY TSE: Do you get a reasonable profit on what you grow?
JD: Put it this way, we're never going to be millionaires, but I think we'll learn enough to be comfortable. So yeah.
BT: And how many people do you hire on this farm?
JD: There's three full time and two part time, excluding myself. Good crew.
BT: Is this all self-taught?
JD: Pretty much. I went down to Tauranga, which is the unofficial home of hydroponics in New Zealand and I was lucky because PGO Horticulture, they put me in touch with a few of the growers down there. And I went down and I picked up a fair bit of knowledge on growing. I visited different growers - lettuce growers, tomato growers and a few others. Yeah, it was good. I was very grateful to them. Because with growers in New Zealand, especially, they're not very forthcoming when it comes to sharing their knowledge. And I understand that, you know? It's an art and you don't just go around giving away your secrets overnight. But they were really good when they found out I was from Niue and they were keen to help. They passed on some of the knowledge and I was grateful for it.
James Douglas says he currently supplies produce to a handful of restaurants, retailers and the Matavai Resort and is preparing to expand his farm.
To embed this content on your own webpage, cut and paste the following:
See terms of use.