Sport: PNG Kumuls targeting a Top 8 finish at World Cup
Papua New Guinea's national rugby league team plans a top 8 World Cup finish.
Transcript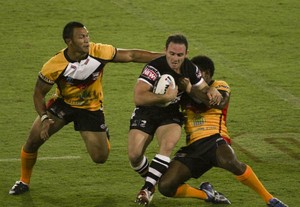 The Papua New Guinea rugby league team have arrived in the UK with high expectations of making the World Cup quarter finals.
The Kumuls squad have a warm-up match against Scotland this weekend before beginning their World Cup campaign against France later in the month.
Mal Meninga was appointed PNG Coaching Director earlier this year and will assist Adrian Lam with the Kumuls team during the Cup. He told Vinnie Wylie the team has worked hard over the past six months and can't wait to get started.
(Above right - New Zealand's Lance Hohaia running into the PNG defence at 2008 Rugby League World Cup)
MAL MENINGA: It's been their best preparation ever. We've taken our time, making sure we get the squad right, making sure there's a great blend of youth and experience, as well. We think we've done all right. We've got a tough pool against the Kiwis, obviously, and against Samoa and the French side so we've got to get on with stuff, but we're quietly confident.
VW: It's been a tricky few years, but obviously there's been a lot of progress this season in terms of off the field and management and people like yourself have come in to support Adrian. Even in that time you've been there, how much of a difference have you seen?
MM: It's been fantastic support from everybody. The sponsors over here in the commercial world, PNG rugby league has been a collective body now with great government support. Of course we've got seven million ardent, passionate rugby league followers here. So it'll be a gradual development of the game over here, but the talent here is enormous. I'm very satisfied and I'm over the moon about the way the current players have progressed over the last six months.
VW: In many ways this World Cup comes very soon and you probably would have loved it to be 12, 18 months down the track.
MM: (Chuckles) Yeah, it would have been fantastic.
VW: What do you think the team can do with what you have done?
MM: We're trying to take the expectation off, to be honest with you. It has been a growing period for us. With additions - our international players or from National Rugby League and we've got three from English Super League. So we've got seven players that are playing at the highest level, which is great for us, but we've gotta... We're trying to have our side all national players. You look at Samoa, for example. Something like 21 of their players play at the NRL and the Super League. The fijian has got about seven, I think the Tongan side has got the whole 23 playing in either in the national league or the English Super League. So that's where we want to take the game to. We want to have the majority of players playing in higher divisions. So our challenge is to instil a bit more self belief in the team. I think with the addition of our national players that's going to help us. We've got to get through a trial against Scotland, where all the group will play. I think our realistic chance is that we're a great chance of being competitive against France and we've got a great chance of being competitive about Samoa. But obviously the New Zealand side is going to be a challenge for us, but we'll give a good account of ourselves. With that in mind we're trying to get to the quarter finals and we just don't know what happens after that. At this stage what we anticipate, we'll be against Fiji or Ireland, and you never know what might happen after that.
To embed this content on your own webpage, cut and paste the following:
See terms of use.