Vanuatu's Luganville to send recycling to New Zealand
Vanuatu's Luganville is to send printer cartridges, mobile phones and chargers to New Zealand for recycling.
Transcript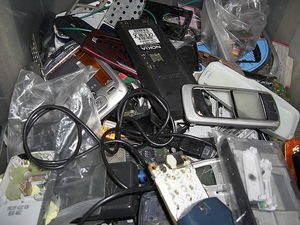 Businesses in Luganville have teamed up with New Zealand companies to set up Vanuatu's first recycling scheme for printer toner cartridges, mobile phones and chargers.
Cartridges and phones will be collected at dropboxes throughout the town, and then shipped to Auckland for recycling.
A waste management specialist and VSA volunteer, Mary O'Reilly, says before now, such products have been thrown into the landfill and don't break down.
She told Mary Baines that as business in Luganville grows, so does the need to recycle office products.
MARY O'REILLY: The urban population in Luganville is increasing significantly. And as more people are moving into town and earning more money they're buying more packaged goods. And they essentially come from a very basic way of living where it's just living with fruit and vegetables or very natural products. And now they are getting more products with packaging and they don't know how to dispose of that. So there's a lot of backyard burning and then they bury a lot of their waste, or they get it collected and it goes to the landfill, which also has fires and things in it. So it's not an ideal situation at all. The printer toner cartridge, while it's a very small waste stream, the business sector in Luganville is growing, so it's quite a good waste stream to start working on. We've also introduced a cardboard recycling programme for the businesses once a week, every Friday. We collect only cardboard. They have to flatten it and tie it. And even just doing that, which now is second nature for businesses and households in New Zealand, that's just such a new concept for them.
MARY BAINES: Has there been quite a good response from the locals?
MARY O'REILLY: Yeah, for sure. Myself and my counterpart from the municipality, we went and visited each of the businesses we were giving the boxes to, so we chose government offices and IT and stationery type stores. So for the some of them, the boxes are out in the public areas, so when you come in to buy your new toner cartridge you can bring in your old one and drop it off, so making it accessible for the public, as well as for the office environments that have a lot of printers. They now are more aware, as a result, that toner cartridges and cell phones have hazardous components in them, and that it's great we can now stop them from going into the landfill, and they'll get recycled into all sorts of amazing things back in New Zealand.
MARY BAINES: Like what?
MARY O'REILLY: The toner itself, residual ink, that all gets mixed and refined and put into paint and used as graffiti paint given to community groups and schools and kindies, the plastic gets made into scooter stands and dispensing insulation, any steel goes off to the recycling factory and cardboard goes off to the likes of Carter Holt Harvey or Paper Reclaim, and recycled. So there's not much left that doesn't end up getting recycled into something else.
MARY BAINES: Are these schemes popping up around the Pacific or is this a one-off thing you're doing?
MARY O'REILLY: There's no other VSA volunteers doing waste management at the moment, but I think with the successes we're managing to have in Luganville, I think there'll be more interest to spread that into other areas in the Pacific for sure. SPREP, which is the Secretariat of the Pacific Regional Environment Programme, manages environmental programmes across the Pacific and they are very interested in this system. And PDL and Croxley are very willing to help this get established in other Pacific Island countries, so it's hopefully just the beginning of small localised projects like that being implemented in Pacific Island countries.
To embed this content on your own webpage, cut and paste the following:
See terms of use.