Sport: Beach Soccer World Cup to kick off in Tahiti
The Beach Soccer World Cup kicks off in Papeete with high hopes that the two Oceania representatives will rise to the occasion in their own backyard.
Transcript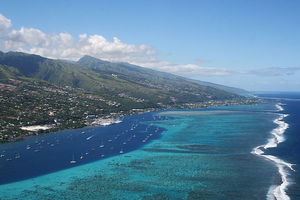 The Beach Soccer World Cup kicks off in Papeete today with high hopes that the two Oceania representatives will rise to the occasion in their own backyard.
Defending champions Russia and beaten finalists Brazil are both in action in on day one, with hosts Tahiti and Oceania qualifiers the Solomon Islands beginning their campaigns tomorrow.
Vinnie Wylie reports:
                                       Papeete
The Tahiti team recently spent two months in Europe preparing for the World Cup, and completed their build-up with big wins over Argentina and Australia last week in front of their home fans. Head coach Angelo Schirinzi says the minimum aim for the Tiki Toa is to get past the first round, which means winning at least two of their group matches against the United Arab Emirates, the United States and Spain. He says while the Tiki Toa were previously seen as a smaller team, that view is changing.
ANGELO SCHIRINZI: We won in May three times against Netherlands here in Tahiti [and] we beat France three times here in Tahiti. So I think on the world map Tahiti is no more an underdog in beach soccer. I think Tahiti have now a strong team, a team with good players and good tactics.  Of course I can not tell you now to win the World Cup but my first objective [is to get] past the group and then you have three matches until the final so we will see.
The Solomon Islands confirmed their World Cup place only two weeks ago by winning the Oceania Championship in New Caledonia. This will be their fifth appearance at a Beach Soccer World Cup, and first since 2009. Gideon Omokirio captained the Bilikiki in the previous four tournaments and has since taken up the coaching reins. He's hopeful the team can maintain their momentum from winning the Oceania Champs and says playing so close to home will also be an advantage.
GIDEON OMOKIRIO: Especially for us Pacific Island countries, the environment and the climate suits us so it's best for us Oceania teams to compete and we expect to do better. We will try out best to go to the second stage, that's our aim at the moment.
Oceania Football's Beach Soccer and Futsal Development Officer Paul Toohey says it's exciting for the region to be able to host such a big event. He says the tournament is already a sell-out and all that's needed is a strong performance from the two local sides.
PAUL TOOHEY: I suppose in the case of Tahiti you know there's that feeling that they could go a little bit further - Solomons too just because of their experience - but I think we're also aware it's difficult. Solomons haven't had ideal preparation so we have to be realistic, as well, because many of the teams they're facing, players are in semi-professional or professional environments. I think getting a win for both the teams is a starting point and then just take it from there but certainly if we see one of them in that knockout phase we'd be delighted. We wouldn't be surprised to see that but we would regard that as an amazing achievement.
Tahiti's first match is against the UAE tomorrow, followed directly after by the Solomon Islands against South American champions Argentina.
To embed this content on your own webpage, cut and paste the following:
See terms of use.