PNG's Eastern Highlands capital positions itself for growth
The capital of PNG's Eastern Highlands province positions itself for growth as the government prepares to boost services in key centres around the country.
Transcript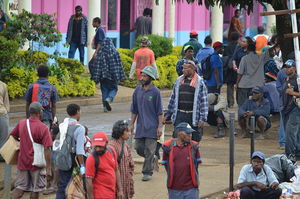 In Papua New Guinea, the Eastern Highlands town of Goroka is positioning itself for growth as the government prepares to boost services in key centres around the country.
The PNG prime minister, Peter O'Neill, says as much as the government wants to improve rural regions, a lot of people are migrating to urban areas in search of opportunities and they need services.
Goroka MP and former cabinet minister, Bire Kimisopa, says one of the appeals of the town is its willingness to welcome people from different ethnic groups, which is less common in other parts of the Highlands. Don Wiseman spoke to him.
BIRE KIMISOPA: The other thing Goroka has got going for itself is that you've got the major institutions. In the town of Goroka you've got a university, you've got medical researchers, you've also got the Coffee Industry Corporation, you've got major exporters dealing with this. You've got most of the donor communities. So they're all housed in Goroka. So Goroka all of a sudden has become a town that is most probably a microcosm of the entire country in terms of the demographics. You're getting all kinds of people cohabiting together in this town. So what we've done is, over the last couple of years since 2002, we've put out an ambitious programme of inviting our local people to start registering land and getting our local authorities to demarcate certain areas that could be acquired by government so we can actually push the town boundaries outside. In a way, we give our people, especially the traditional landowners, an opportunity to participate in taking advantage of services we're providing, free survey and so forth. For those of us in leadership I think it's incumbent on us to plan effectively, and as much as possible put sufficient resource into building towns and cities so we can create a very good catchment area so that our people can have access to services.
DON WISEMAN: I guess the other thing, though, is it's all very well attracting people from the rural areas, but they'll need work, won't they?
BIRE KIMISOPA:  Perhaps. Employment will be tied down to public spending, so I suspect... The sectors that should be really growing, the economy and agriculture is not growing because we have not made any investment in agriculture, cocoa and copra. So that remains to be seen unless we get our act together beginning in 2014 to make some substantial investment. PNG has one major handicap, and I think that is to do with mobilising land and having access to land. And the rents in PNG are so high, astronomical. We are paying a huge price for land. Agriculture cannot thrive in a country where we've got continuous land problems. We haven't sorted out exactly how we can mobilise land, so I suspect that's something in the next year I think we will solve our domestic issues, especially, surrounding the land so we can bring back a sufficient volume of land into development, then we can create the kinds of jobs we want to create. Otherwise I think we will see pockets of development, for instance, the one we've seen with the LNG conference. I think that's going to die out now because the construction phase is just winding down. So it's going to be up and down for a while until such time that we critically address some of the problems we have in that country in terms of land. How do we bring or mobilise land into the development? That is a huge start.
To embed this content on your own webpage, cut and paste the following:
See terms of use.