Upbeat for Thursday 30 June 2011
1:00 PM.Polish pianist in NZ for the Christchurch Polish Association's earthquake fundraising concert this Saturday. Audio

12:40 PM.NZ actor featuring in Tom McCrory's new radio play 'Melon Cauliflower' that will be broadcast on RadioNZ National this Sunday. Audio

12:15 PM.NZ Dancer and Choreographer working with Okareka Dance Company for their latest show 'Nga Hau e Wha'. Audio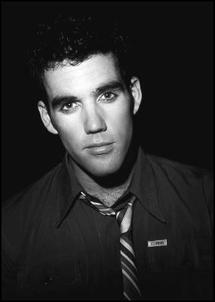 On Thursday's Upbeat programme, Okareka Dance Company aim to premiere their new four-act dance work Nga Hau e Wha in Wellington in July.

Taane Mete and Taiaroa Royal are two of New Zealand's most respected dance professionals. Together, they have assembled a team who will support them in the creation of this work with choreography by Taane Mete, Taiaroa Royal and Upbeat's guest Ross McCormack (pictured).

The play's music is composed by Eden Mulholland, with design by John Verryt, Elizabeth Whiting, Paul O'Brien and Michael Hodgson.

Plus, Upbeat presenter Eva Radich talks to actor Peter Vere Jones who stars in Tom McCrory's new radio play Melon Cauliflower - broadcast on Radio New Zealand this Sunday 3 July at 3.05pm.

The play is a poetic account of love and loss and one man's journey out to the edge of grief. Peter Vere-Jones features in a bravura performance as Prospero, a man in his late sixties who struggles to come to terms with the death of his wife along with a strong cast including Miranda Harcourt, Fleur Saville, SohieHambleton, Davida McKenzie, Thomasin McKenzie, Richard Chapman, Hugh McLaughlin, Anya Tate-Manning, and Ricky Dey.
And finally on Upbeat, Polish-born pianist Dr Anna Kijanowska talks about her trio of talent appearing in the local Polish Association's quake fundraising concert, Ode to Joy this Saturday.
Polish-born flautist Adrianna Lis performs an original Anthony Ritchie composition while Anna, who has come from the US, lends her support. Olga Gryniewicz, a Wellington-based soprano, will accompany them in the concert featuring work by Chopin, Beethoven, Schubert, Saint-Saëns and Szymanowski.