Robert Johnson looks at the chamber music of Gabriel Pierné and Louis Vierne, performed by the Goldner Quartet and pianist Piers Lane. He also features an exciting recording of Rachmaninov's Symphonic Dances and The Bells played by the Berlin Philharmonic. You'll also hear Britten's War Requiem from an all-star cast, under the direction of Antonio Pappano.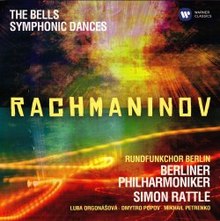 RACHMANINOV: The Bells; Symphonic Dances
Luba Orgonášová (soprano), Dmytro Popov (tenor), Mikhail Petrenko (bass), Berlin Radio Choir, Berlin Phil/Simon Rattle
(Warner Classics 9 84519)

This live concert recording of The Bells has the feeling of new discovery about it. There's an enthusiasm and energy to the performance that hasn't always been evident in Rattle's recordings with the Berlin Phil, and it really pays off. The choir is on top form and all three soloists are perfectly cast. Performances of both works are among the best available, distinguished by superb orchestral playing and, in The Bells, by top-notch singing as well.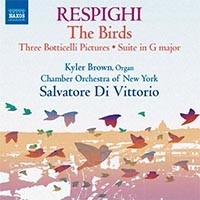 RESPIGHI: The Birds; Three Botticelli Pictures; Suite in G major for strings and organ; Serenata
Kyler Brown (organ), Chamber Orchestra of New York/Salvatore Di Vittorio
(Naxos 8.573168)

There's a lean and translucent quality to their sound that's particularly successful in a work such as The Birds in which the scoring is so deft and agile. Trittico botticelliano is a masterpiece of ingenious orchestration on a small scale. Interpretations of both these works are wonderfully detailed, and the youthful orchestra plays well in a slightly unforgiving acoustic.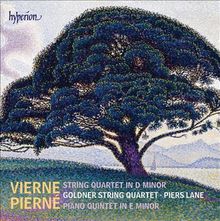 PIERNÉ: Piano Quintet in E minor; VIERNE: String Quartet in D minor
Piers Lane (piano), Goldner String Quartet
(Hyperion CDA 68036)

Vierne's String Quartet is no masterpiece but it does have charm, particularly the graceful and ephemeral Intermezzo. The Piano Quintet in E minor by Gabriel Pierné, however, proves to be quite a discovery – beautifully scored, with some wonderfully balanced writing. Performances of both works are exemplary and the recording is perfectly balanced. This is a wonderful CD that should be snapped up by anyone with an interest in finely crafted chamber music.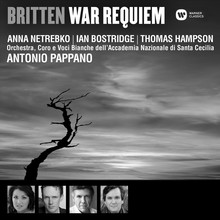 BRITTEN: War Requiem
Anna Netrebko (soprano), Ian Bostridge (tenor), Thomas Hampson (baritone), Chorus, Boys' Choir and Orchestra of the National Academy of Saint Cecilia, Rome/Antonio Pappano
(Warner Classics 6 15448)

Tenor Ian Bostridge and baritone Thomas Hampson both take a dramatic approach to their roles, characterising each poem with the intelligence of great lieder interpreters and the theatrical instinct of opera singers. Not unexpectedly Anna Netrebko also takes a strikingly operatic approach to her part. The Italian choir sing Britten's work as though they've known it all their lives and Sir Antonio Pappano conducts the work with red-blooded intensity. All in all, this is a recording of the War Requiem in which everything has come together to create an outstanding performance.