Roger Wilson highlights four finalists from this year's BBC Music Magazine Awards, from the vocal, choral and operatic categories. He delights in the Hyperion release Handel's Finest Arias for Base Voice with soloist Christopher Purves, and Romantische Arien with baritone Christian Gerhaher. The songs of Hanns Eisler are featured, along with a recording of Arvo Pärt choral works called Adam's Lament.
Handel's Fine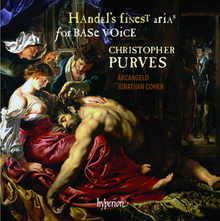 st Arias for Base Voice
Christopher Purves (bass), Arcangelo/Jonathan Cohen
(Hyperion CDA 67842)

The writing of  the bass voice in Handelian operas is sometimes thought to be formulaic. This is far from true, as the arias selected on this CD illustrate. Some surprising subtleties emerge. Christopher Purves has the timbre of a light baritone, and he whizzes through the most elaborate runs with almost nonchalant accuracy. He also has astonishing low notes. The baroque orchestra Arcangelo under ebullient conductor Jonathan Cohen matches him in fiery exuberance.
 
Romantisc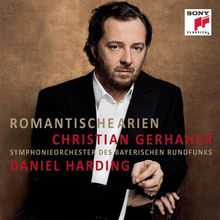 he Arien
Christian Gerhaher (baritone), Barvarian Radio SO/Daniel Harding
(Sony 88725 42295)

This is an interesting release, which sheds light on the neglected German operatic repertoire between 1820 and 1848, which led up to the incomparable genius of Wagner. Christian Gerhaher sings wonderfully well, unfailingly beautiful of tone, with the kind of exquisite declamation that makes nonsense of the claim that German is a harsh and unvocal language. It's hard to imagine a more delicately sung version of Wagner's famous Hymn to the Evening Star.


HANNS EISLER: Ernste Gesänge & Piano Sonata Op. 1
Matthias Goerne (baritone), Ensemble Resonanz, Thomas Larcher (piano)
(Harmonia Mundi HMC 90 2134)

The only Eisler songs I was familiar with before this CD were some doctrinaire Marxist ballads to Bertolt Brecht poems. Hearing this disc, there's no doubting the vigour of Eisler's music. The Ernste Gesänge for baritone and instrumental ensemble were quite an eye-opener for me, establishing Eisler in the forefront of 20th Century composers of lieder. This music could not have a more persuasive advocate than baritone Matthias Goerne.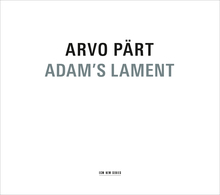 PÄRT: Adam's Lament
Tui Hirv (soprano), Rainer Vilu (baritone), Estonian Phil Chamber Choir, Tallinn CO/Tonu Kalujuste
(ECM 2225)

This splendid CD has some of Arvo Pärt's sacred choral works, as well as some secular gems like the charming Estonian Lullaby. There's  a very strong choral tradition in the Baltic countries, and the three choirs on this recording are first class. The recordings were made in the perfect acoustic of the Niguliste Church in Tallinn, with the composer in attendance.