The Critic's Chair series ended in March 2015.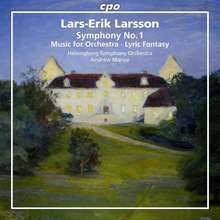 LARSSON: Symphony No 1; Music for Orchestra; Lyric Fantasy; The Winter's Tale; Pastoral
Helsingborg SO/Andrew Manze
(CPO 777 671)

Robert Johnson reviews a recent release of orchestral music by Swedish composer Lars-Erik Larssen. Popular in Sweden, Robert tells our producer Hannah Sassman why Larssen's music is worthy of exposure here in New Zealand too.