The Critic's Chair series ended in March 2015.
Robert Johnson looks at a new disc of orchestral works by Polish composer Andrzej Panufnik, who would have been 100 years old this year. He also reviews a stunning new recording of Shostakovich's Symphony No 14 – the latest addition to the Royal Liverpool Philharmonic's Shostakovich cycle under the skilled baton of Vasily Petrenko. You'll also hear the skilled Liège Philharmonic playing works by Respighi.
RESPIGHI: Impressioni brasiliane; La Boutique fantasque
Liège Royal Philharmonic/John Neschling
(BIS 2050)

On the evidence of this recording the Liège Philharmonic is a very fine orchestra indeed. The energy and flair displayed in the Cancan and Tarantella from La Boutique fantasque, together with wonderfully clean and crisp ensemble, is matched by the delicacy of the various solos featured in the Nocturne. Although Brazilian Impressions isn't one of the best known of Respighi's works, it proves to be quite striking in a performance as fine as this. Listen to the sensual elegance of both the solos and the sectional playing in the opening movement, Tropical Night. This orchestra is a class act.


PANUFNIK: Sinfonia di Sfere; Bassoon Concerto; Love Song; Landscape
Konzerthausorchester Berlin, Polish Radio Symphony Orchestra/Łukacs Borowicz
(CPO 777 686)

Panufnik's "Symphony of Spheres" is for the most part a pensive work, broken occasionally by vigorous outbursts. It's partly a matter of the clarity of the recording, but I think also that Borowicz's pacing and his grasp of the structure of the work gives this performance a slight edge over previous recordings. The Bassoon Concerto was written soon after Panufnik had learned of the torture and death of the Catholic priest Father Jerzy Popiełuszko at the hands of the secret police.  This association led to one of the most sombre and dramatic works ever written for the instrument.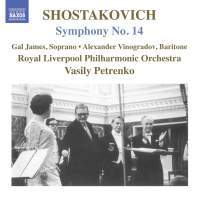 SHOSTAKOVICH: Symphony No.14
Gal James (soprano), Alexander Vinogradov (baritone), Royal Liverpool Philharmoni/Vasily Petrenko
(Naxos 8.573132)

Shostakovich's Fourteenth Symphony is a cycle of eleven songs for soprano and bass or baritone soloists with a chamber orchestra comprising just nineteen string instruments and three percussionists. The selection of the texts, and the sequence in which they appear in the symphony, expresses a message of defiance against those who cause the premature deaths of others. This strikes me as the best recording of this work since the iconic recording by Vishnevskaya, Reshetin and Rostropovich. If it falls slightly short of that performance in sheer intensity, it's not by much. An outstanding performance by any standard.