The Critic's Chair series ended in March 2015.
Kenneth Young sits in our Critic's Chair this week. He revels in a new recording of Gabrieli works performed by Berlin Brass, and explores three orchestral works by Chinese-American composer Bright Sheng. The Takács Quartet play Britten's three String Quartets, and you'll hear a very effective chamber version of Bruckner's Symphony No 2, arranged by British composer Anthony Payne.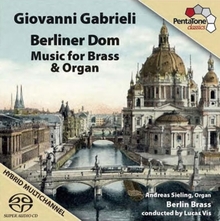 GIOVANNI GABRIELI: Works for Brass & Organ
Berlin Brass /Lucas Vis
(Pentatone PTC 5186 509)

Surround sound is ideal for reproducing the antiphonal textures of Gabrieli, and this album, made in a stunning acoustic, is the finest recorded example of Gabrieli's music for brass I've heard. The performances on this disc are so beautifully and lovingly honed that I can tell this ensemble cares about this music as much as I do. Lucas Vis paces each work beautifully, carefully facilitating performances which had me replaying this disc over and over. I recommend it highly.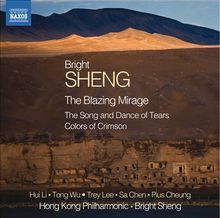 SHENG: The Song and Dance of Tears; Colors of Crimson; The Blazing Mirage
Hong Kong Philharmonic/Bright Sheng
(Naxos 8.570610)

Bright Sheng's music assimilates the sonorities of classical western art music alongside the cultural tradition of his native China. Here, alongside the regular symphony orchestra he incorporates major solo roles for the Pipa (a popular, plucked Chinese stringed instrument) and the Sheng (a blown reed instrument).The performances by the Hong Kong Philharmonic on this disc are vibrant and accurate.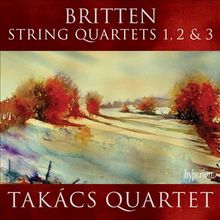 String Quartets No 1-3
Takács Quartet
(Hyperion CDA 68004)

I've always found the Britten quartets somewhat elusive. They contain such contradictory elements which can make it difficult for ensembles to solve all the puzzles. For instance, in this recording, the Takács Quartet doesn't quite capture the stillness at the heart of the 'Song' movement of the 3rd Quartet. This is a minor quibble as in general the set is a good guide to the music's beauty and complexity, giving listeners most of what they need to come to their own conclusions.


BRUCKNER arr PAYNE: Symphony No 2
Royal Academy of Music Soloists Ensemble/Trevor Pinnock
(Linn CKD 442)

In this chamber arrangement there's a lack of rich string sonority, and an obvious lack of impact from the reduced brass. But on the flip side, you're able to get to the heart of a large orchestral work through the intimacy and flexibility of single instrument voices interacting. Personally, I'd rather listen to what the composer had in mind, but there's a charm and eloquence to this rendition which I find strangely alluring. It's certainly worth a listen.