The Critic's Chair series ended in March 2015.
This week on The Critic's Chair Robert Johnson shares his thoughts on the valedictory release by the Tokyo String Quartet, and the London Philharmonic's recording of Mahler's Symphony No 1 in D under their dynamic Music Director Vladimir Jurowski. Michael Collins features as clarinet soloist and conductor on a new disc of Mozart and Copland, and violinist Chloë Hanslip performs sonatas by Nikolai Medtner.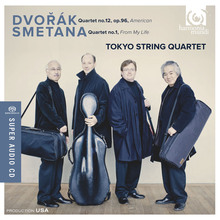 DVORAK: String Quartet No 12, 'American'; SMETANA: String Quartet No 1, 'From My Life'
Tokyo String Quartet
(Harmonia Mundi HMU 80 7429)

This recording is described by the record company as the Tokyo Quartet's "valedictory" release, though in fact both Quartets were recorded seven years ago. This is undoubtedly one of the finest recorded performances of the Smetana, impassioned and dramatic, though the performance is never compromised by a lapse in intonation or ensemble. The Dvořák is given a more relaxed interpretation but I still think it's a fine performance, and the CD as a whole is a vivid memento of one of the great string quartets of our time.


MOZART: Clarinet Concerto; COPLAND: Clarinet Concerto; KATS-CHERNIN: Ornamental Air
Michael Collins (cl/dir), Swedish CO
(Chandos CHAN 10756)

Mozart's Clarinet Concerto is performed by Michael Collins on basset clarinet, the instrument for which Mozart composed it. Regardless of instrument, you'd be hard pressed to find a more sublime performance of the work than this one. Agile and technically immaculate as Michael Collins is in the fast outer movements, it's his sustained and expressive playing in the Adagio that sets the seal on this performance. His performance of Copland's concerto is also among the very best, and Elena Kats-Chernin's concerto for basset clarinet is a thoroughly modern but approachable work that should please listeners whose tastes encompass the music of composers such as John Adams.


MEDTNER: Violin Sonatas No 1 & 3
Chloë Hanslip (vln), Igor Tchetuev (pno)
(Hyperion CDA 67963)

I've heard other praiseworthy performances of these works, but violinist Chloë Hanslip and pianist Igor Tchetuev bring a new level of artistry to them. These ardent and perceptive performances should do a great deal to enhance the reputation of this music. The recording is quite perfect – I could hardly imagine a better balance between the two instruments.




MAHLER: Symphony No 1
London Phil / Vladimir Jurowski
(LPO 0070)

In general this is one of the most successful recordings of this work that I've heard, with one important reservation. Jurowski uses an edition of the symphony that chooses to open the slow movement with the full double bass section rather than a solo double bass as Mahler intended. This editorial decision has been ridiculed by Mahler scholars all over the world, and it's particularly regrettable that Jurowski follows it, since the performance of the symphony is otherwise so good. In the finale, Jurowski's lack of exaggeration is particularly enjoyable. He underlines the purely musical logic of Mahler's symphony, but without missing the fluidity that's such an important part of any Mahler performance.