The Critic's Chair series ended in March 2015.
Peter Mechen presents The Critic's Chair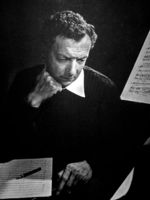 "My subject is war, and the pity of war. The poetry is in the pity. All a poet can do today is warn."
Those words, written by soldier and poet Wilfred Owen in a preface to a published edition of his poems, also appear at the head of the printed score of one of the twentieth century's most powerful works, Benjamin Britten's War Requiem.

In honour of the centenary of Britten's birth, Peter Mechen dedicates an entire programme to a recent recording of the work by The London Symphony Orchestra and Chorus conducted by Gianandrea Noseda. Recorded live at the Barbican Hall in London, the performance commemorates the fiftieth anniversary of the work's première in 1962.
Presented by Peter Mechen.
BRITTEN: War Requiem
Sabina Cvilak (sop), Ian Bostridge (ten), Simon Keenlyside (bar), Choir of Eltham college, London Symph Orch and Chorus/Gianandrea Noseda
(LSO Live LSO719)

This recording of the War Requiem is one of the latest to appear over the last couple of years. For some time it seemed that no-one else would dare offer an alternative to the composer's own iconic Decca recording of the work, made just over fifty years ago. Thankfully musicians belonging to a new generation have begun to establish their own direct performance connections with the music. This new LSO Live recording is an outstanding example of that process. It reaffirms the work's power and on-going relevance both for present and future times.