The Critic's Chair series ended in March 2015.
This week, Dianne James presents The Critic's Chair.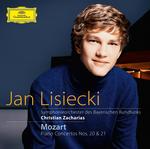 MOZART: Piano Concertos in D minor, K.466 and C major K.467
Jan Lisiecki (piano), Bavarian Radio SO/Christian Zacharias
(Deutsche Grammophon DG 479 0061)

Seventeen-year-old Canadian pianist Jan Lisiecki's first disc for DG couples two of Mozart's most popular and beloved piano concertos. This is a brave release considering the competition in the catalogue from established Mozartian pianists such as Uchida, Perahia, and Brendel.  Lisiecki. However, has nothing to fear from comparison with such artists. This is extremely refined Mozart playing, and I look forward to following the career of this gifted young artist as he matures and develops in the coming years.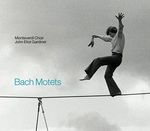 BACH: Motets
Monteverdi Choir/John Eliot Gardiner
(Soli Deo Gloria SDG 716)

This stunning new recording features the fabulously athletic voices of the Monteverdi Choir, who negotiate the perilously difficult, virtuosic choral-writing that Bach throws at them with breath-taking ease and control.  Gardiner's credentials in the music of Bach are second to none, and this new disc maintains the incredibly high standards of Bach choral performance that Gardiner has achieved with the Monteverdi Choir over the last 25 years or so. One can't go wrong really, so if you find the combination of Bach, Gardiner and the Monteverdi Choir irresistible, don't hesitate.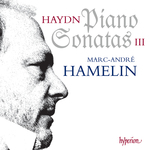 HAYDN: Piano Sonatas Volume 3
Marc-André Hamelin
(Hyperion CDA 67882)

Marc-André Hamelin has reached the halfway mark in his journey through the Haydn Piano Sonatas for Hyperion. And what a fabulous ride we've had so far. Hamelin's Haydn performances are characterized by a certain degree of flamboyance and showmanship, and this might put some listeners off. But I think that Haydn would have delighted in what Hamelin achieves in this outstanding series. These performances crackle and sparkle; they can make one smile or even laugh out loud, just as Haydn must have done as he was crafting many of these most original and inventive works.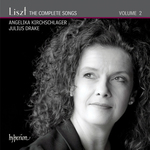 LISZT: The Complete Songs, Volume 2
Angelika Kirchschlager (mezzo), Julius Drake (piano)
(Hyperion CDA 67934)

This is a most distinguished recital by one of the world's finest mezzo-sopranos. Kirchschlager has enormous experience in the world of song, and in fact contributed the first volume of Brahms Lieder to Hyperion's on-going complete survey of that composer's Lieder. Liszt's songs have received quite a bit of attention in the recording studio in the last couple of years; many of these songs were included in Diana Damrau's excellent recital with pianist Helmut Deutsch on Virgin that was released in 2011. Kirchschlager's more mellow voice is quite a different instrument to Damrau's more brilliant, showy soprano, yet both singers have equally interesting and valid things to say about these neglected works.