The Critic's Chair series ended in March 2015.
After a prolific year from the New Zealand record label, Rattle Records, Robbie Ellis reviews some of their most recent releases for The Critic's Chair.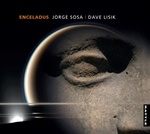 Enceladus
Dave Lisik (trumpet), Jorge Sosa (electronics)
(Rattle RAT-D034)

In Enceladus, Jorge Sosa takes the cool jazz trumpet playing of Dave Lisik and gives it an electronica twist into five rhythmically agile snapshots. It feels like Sosa could have cut loose on his grooves a bit more, but there's something to be said for his restraint – it does leave you wanting more. These are visions for the modern space age, sweeping landscapes of a far-off land.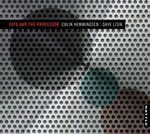 Fate and the Processor
Colin Hemmingsen (saxophones, clarinets, bassoon), Dave Lisik (electronics)
(Rattle RAT-D031)

Undeniably, Fate and the Processor is beautifully recorded. Dave Lisik gets splendidly full tone from Colin Hemmingsen's two saxophones, two clarinets and bassoon. While Hemmingsen's playing and improvisations are highlights, the application of electronic effects brings forth too many weak moments. At 47 minutes, it's not exactly great value for a full-price album, and I wasn't able to see the connection between the many Steve Jobs-inspired movement titles and the musical content.


Invenium Viam
Imbal Megiddo (cello), Jorge Sosa (electronics), Dave Lisik (electronics)
(Rattle RAT-D033)

You really get a sense of journey across the full length of this album. The cello is suited to wringing out fraught emotional lines and Inbal Megiddo provides them with great tone and feeling. That said, it's Jorge Sosa's beautiful use of electronic effects which extends these phrases into the never-never, assembling all the ideas into a composition where time stands still. Invenium Viam has a sound to luxuriate in, and after you've listened to it right through, you feel refreshed.


Hikoi - Journey
Richard Nuns (taonga pūoro), Paul Dyne (bass), Amy Rempel (piano), Tim Hopkins (saxophone), Jorge Sosa (electronics), Dave Lisik (electronics)
(Rattle RAT-D036)

Taonga pūoro master Richard Nunns and bassist Paul Dyne got together in a room and recorded what the back cover calls "improvisational conversations". The result of that is CD 1 – Hikoi. The second cd's called 'Journey', a jazz suite using those 'improvisational conversations' as a starting point. CD 2, Journey, is tastefully full of space. But it's CD 1, Hikoi, which is the gem. Richard Nunns and Paul Dyne are both masters of their art who've known each other for over 40 years, and they're having a talk between friends which we get to sit in on. It's simple and direct. Side by side, the two discs both have something to offer and complement the other. The whole package is a treasure.