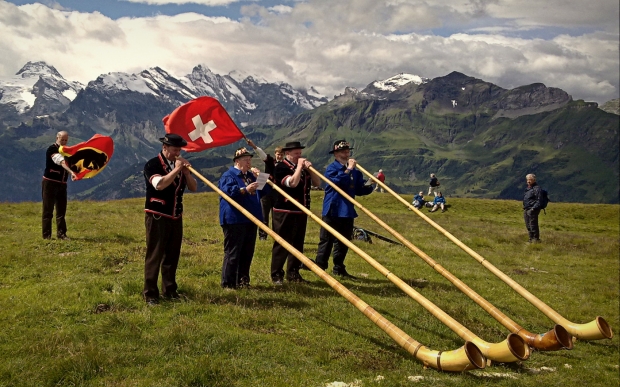 Grindelwald Alphorn Festival, Switzerland. Photo: Cristo Vlahos. (CC BY-SA 3.0)
There are great concert halls, grand opera houses, glorious cathedrals... but some music is just meant to be heard in the open air.
Think of the echoing possibilities of the Alps and you may conjure up the sound of the alpenhorn. A misty highland loch? Bagpipes. For palm-rustling trade winds by the lazy Pacific… think ukulele. And of course gamelan for the vaulted mysticism of the Indonesian open air balé.
Instruments have developed over thousands of years for specific environments. Radio New Zealand's Amelia Nurse seeks out the primeval, the priceless and the powerful in the world of outdoor music-making. Along the way, she gains special insights in conversation with expert contributors Megan Collins, Erich Widmer, Melchior Abplanalp, Karen Drozd, Owen Clarke and David Welsh.