1 January 2010
Print a PDF of Settling the Score for 2010.
7:00 p.m. to 8:00 p.m.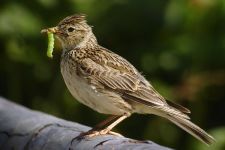 1. VAUGHAN WILLIAMS: The Lark Ascending
Iona Brown (vln), Academy of St Martin-in-the-Fields/Neville Marriner
Decca 466 945
2. MOZART: Clarinet Concerto in A
Michael Collins (cl), Russian National Orch/Mikhail Pletnev
DG 457 652
3. HANDEL: Messiah
Played the Pastoral Symphony; I know that my redeemer liveth; and Hallelujah
Kiri Te Kanawa (sop), Chicago Chorus & SO/Georg Solti
Decca 417 449
(Photo of a skylark, Alauda arvensis, by Daniel Pettersson, used under the Creative Commons Attribution-Share Alike 2.5 Sweden licence.)
6:00 p.m. to 7:00 p.m.
4. STRAUSS: Four Last Songs
Gundula Janowitz (sop), Berlin Phil/Herbert von Karajan
DG 423 888
5. BRUCH: Violin Concerto No 1 in G minor
Played 2nd movement, Adagio
Janine Jansen (vln), Leipzig Gewandhaus Orch/Riccardo Chailly
Decca 475 8328
6. BEETHOVEN: Piano Concerto No 5 in Eb, Emperor
Played 2nd movement, Adagio un poco mosso
Michael Houstoun (pno), New Zealand SO/János Fürst
Trust MMT 2009
(Photo of Michael Houstoun © Hannah Evans.)
5:00 p.m. to 6:00 p.m.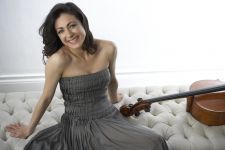 7. BACH: Mass in B minor
Played the Sanctus
New Philharmonia Chorus & Orch/Carlo Maria Giulini
BBC Legends BBCL 4062
8. BEETHOVEN: Symphony No 6 in F, Pastoral
Played 1st movement, Allegro ma non troppo; and 2nd movement, Andante molto mosso
Academy of Ancient Music/Christopher Hogwood
L'Oiseau-Lyre 425 696
9. ALLEGRI: Miserere mei, Deus
Choir of New College, Oxford/Edward Higginbottom
Erato 0630 14634
10. ELGAR: Cello Concerto in E minor Op 85
Played 3rd movement, Adagio; and 4th movement, Allegro
Natalie Clein (cello), Royal Liverpool Phil/Vernon Handley
EMI 5 01409
(Photo of Natalie Clein © Daniela Mueller-Brunke / EMI Classics.)
4:00 p.m. to 5:00 p.m.
11. BACH: Goldberg Variations
Played from Variation 25 to the end
Pierre Hantaï (hpschd)
Mirare MIR 9945
12. GÓRECKI: Symphony No 3, Symphony of Sorrowful Songs
Played 2nd movement, Lento e largo - Tranquilissimo
London Sinfonietta/David Zinman
Nonesuch 7559 79282
13. DVOŘÁK: Symphony No 9, From the New World
Played 2nd movement, Largo
New Zealand SO/James Sedares
(RNZ)
(Photo of New Zealand Symphony Orchestra wind players by Robert Catto.)
3:00 p.m. to 4:00 p.m.
14. SCHUBERT: String Quintet in C
Played 2nd movement, Adagio; and 3rd movement, Scherzo, Presto - Trio.
Melos Quartet: Wilhelm Melcher & Gerhard Voss (vlns); Hermann Voss (vla), Peter Buck (cello); Mstislav Rostropovich (2nd cello)
DG 415 373
15. SAINT-SAËNS: Symphony No 3 in C minor, Organ
Played 3rd movement, Allegro moderato; and 4th movement, Maestoso
Gillian Weir (org), Ulster Orch/Yan Pascal Tortelier
Chandos CHAN 8822
16. MAHLER: Symphony No 5 in C# minor
Played 4th movement, Adagietto; and 5th movement, Rondo, Finale (Allegro)
Berlin Phil/Simon Rattle
EMI 5 57385
(Photo of Gillian Weir by Neil Collier.)
2:00 p.m. to 3:00 p.m.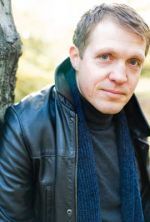 17. PÄRT: Spiegel im Spiegel
Thomas Kemp (vln), Stephen de Pledge (pno)
Black Box BBM 1071
18. BACH: St Matthew Passion
Played final sections: Mache dich, mein Herze rein; Und Joseph nahm den Leib; Nun ist der Herr zur Ruh gebracht; and Wir setzen uns mit Tränen nieder
Deborah York (sop), Magdalena Kožená (mezzo), Mark Padmore (ten), Peter Harvey (bass), Gabrieli Players/Paul McCreesh
Archiv 474 200
19. SCHUBERT: Impromptu No 3 in Gb D899
Maria João Pires (pno)
DG 457 550
20. SIBELIUS: Symphony No 2 in D
Played 3rd movement, Vivacissimo; and 4th movement, Allegretto moderato
Cincinnati SO/Paavo Järvi
Telarc CD 80585
(Photo of Stephen de Pledge © Jack Liebeck.)
1:00 p.m. to 2:00 p.m.
21. MOZART: Don Giovanni, Overture
NHK SO/Jun Märkl
Altus ALT 006-7
22. LILBURN: Aotearoa Overture
New Zealand SO/John Hopkins
Kiwi CD SLD 99
23. MAHLER: Symphony No 2 in C minor, Resurrection
Played 3rd movement, Scherzo - In ruhig fließender Bewegung; and 4th movement, "Urlicht" (from Des Knaben Wunderhorn), Sehr feierlich, aber schlicht.
Yvonne Naef (mezzo), Philadelphia Orch/Christoph Eschenbach
Ondine ODE 1134
24. SIBELIUS: Finlandia
Boston SO/Colin Davis
Philips 446 160
25. GERSHWIN: Rhapsody in Blue
André Previn (pno/dir), Pittsburgh SO
Philips 456 934
(Photo of André Previn © Harald Hoffmann / Deutsche Grammophon.)
Midday to 1:00 p.m.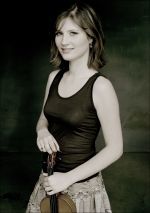 26. MOZART: The Marriage of Figaro, Overture
Concerto Cologne/René Jacobs
Harmonia Mundi HMC 80 1818.20
27. SIBELIUS: Violin Concerto in D minor
Played 1st movement, Allegro moderato
Lisa Batiashvili (vln), Finnish Radio SO/Sakari Oramo
Sony 886971 29362
28. BIZET: Au fond du temple saint, from The Pearl Fishers
Jussi Björling (ten), Robert Merrill (bar), RCA Victor SO/Renato Cellini
RCA GD 87799
29. RACHMANINOV: Symphonic Dances
Played 1st movement, Non allegro
London SO/André Previn
EMI 7 64530
30. HAYDN: Trumpet Concerto in Eb
Alison Balsom (tpt), German Chamber Phil of Bremen
EMI 2 16213
(Photo of Lisa Batiashvili by Kasskara.)
11:00 a.m. to Midday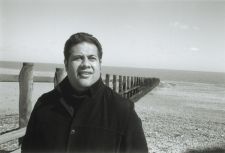 31. CHOPIN: Piano Concerto No 1 in E minor
Played 3rd movement, Rondo - Vivace
Evgeny Kissin (pno), Moscow Phil/Dmitri Kitaenko
RCA 09026 68378
32. SHOSTAKOVICH: Symphony No 10 in E minor
Played 3rd movement, Allegretto
Prague SO/Maxim Shostakovich
Supraphon SU 3890
33. TCHAIKOVSKY: Gremin's Aria, from Eugene Onegin
Jonathan Lemalu (bbar), New Zealand SO/James Judd
EMI 5 57605
34. BEETHOVEN: Grosse Fuge in Bb Op 133
Borodin Quartet: Ruben Aharonian & Andrei Abramenkov (vlns), Igor Naidin (vla), Valentin Berlinsky (cello)
Chandos CHAN 10268
35. FINZI: Eclogue Op 10
Peter Katin (pno), New Philharmonia/Vernon Handley
Lyrita SRCD 239
(Photo of Jonathan Lemalu © Richard Dunkley / EMI.)
10:00 a.m. to 11:00 a.m.
36. FAURÉ: Requiem
Played Pie Jesu; Agnus Dei; Libera me; and In Paradisum
Sara Macliver (sop), Teddy Tahu Rhodes (bar), Cantillation, Sinfonia Australis/Antony Walker
ABC Classics 472 045
37. ELGAR: Introduction & Allegro Op 47
Hallé Orch/Mark Elder
Hallé CD HLL 7507
38. HANDEL: Water Music
Played Suite No 3 in G
Concerto Cologne
Berlin Classics 1617 BC
39. BEETHOVEN: Violin Concerto in D Op 61
Played 3rd movement, Rondo
Maxim Vengerov (vln), London SO/Mstislav Rostropovich
EMI 3 36403
(Photo of Sara Macliver by Frances Andrijch.)
9:00 a.m. to 10:00 a.m.
40. BORODIN: Polovtsian Dances, from Prince Igor
London Symphony Chorus & Orch/Georg Solti
Decca 444 389
41. PROKOFIEV: Piano Concerto No 2 in G minor
Played 1st movement, Andantino-Allegretto
Boris Berman (pno), Royal Concertgebouw Orch/Neeme Järvi
Chandos CHAN 10522
42. SCHUMANN: Widmung
Barbara Bonney (sop), Vladimir Ashkenazy (pno)
Decca 452 898
43. MENDELSSOHN: Octet Op 20
Played 2nd movement, Andante
Leipzig String Quartet: Andreas Seidel & Tilman Büning (vlns), Ivo Bauer (vla), Matthias Moosdorf (cello); Matthias Wollong & Yamei Yu (vlns), Hartmut Rohde (vla), Michael Sanderling (cello)
MDG 307 1057
44. HANDEL: Let the bright seraphim, from Samson
Carolyn Sampson (sop), Bach Choir, English Concert/David Hill
BIS SACD 1736
45. TCHAIKOVSKY: Piano Trio in A minor
Played part of the 1st movement, Adagio con duolo e ben sostenuto - Allegro giusto
Yefim Bronfman (pno), Cho-Liang Lin (vln), Gary Hoffman (cello)
Sony SK 53269
(Photo of Neeme Järvi © Frederick Stucker.)
8:00 a.m. to 9:00 a.m.
46. SCHUMANN: Fantasie in C Op 17
Played 3rd movement, Langsam getragen
Murray Perahia (pno)
CBS MK 42124
47. BRAHMS: German Requiem
Played "Denn alles Fleisch"
Monteverdi Choir, Orch Revolutionnaire et Romantique/John Eliot Gardiner
Philips 432 140
48. WAGNER: The Mastersingers of Nuremberg, Prelude
Sydney SO/Edo de Waart
ABC Classics 462 013
49. PSATHAS: Three Psalms
Played 2nd movement, "Inferno"
Michael Houstoun (pno), New Zealand SO/Marc Taddei
Rattle RAT-DV 015
50. RAVEL: Daphnis & Chloé
Played "Sunrise"
Royal Concertgebouw Orch/Bernard Haitink
Pentatone PTC 5186 167
(Photo of John Psathas from johnpsathas.com.)