William dares to revisit British progressive rock. He opens with some tracks from The Nice and then looks at the recently released Losing Our Virginity - The First 4 Years '73-'77 (Virgin Records) and features tracks from Mike Oldfield, Gong, Robert Wyatt, Klaus Schulze, Egg and Ivor Cutler.
Then he turns to Yes and their 12-CD set, Yes – The Studio Albums 1969-1987 (Atlantic). He finishes with a pre-release track from their new album Heaven & Earth.
William's been doing a lot of listening.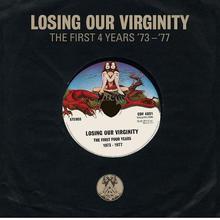 5:00 PM.William Dart dares to revisit British progressive rock, with two new box sets: early-years Virgin recordings and a 12-CD set of recordings of Yes. Audio
Playlist
'Song title' (Composer) – Performers
Album title
(Label)

'Brandenburger' (Bach arr Emerson) – The Nice
The Best of The Nice
(Charly)

'Intermezzo from The Karelia Suite' (Sibelius arr Emerson) – The Nice
The Best of The Nice
(Charly)

'Hang on to a Dream' (Hardin) – The Nice
The Best of The Nice
(Charly)

'Tubular Bells' (Oldfield) – Mike Oldfield
Losing Our Virginity: The First 4 Years '73-'77
(Virgin)

'The Pot Head Pixies' (Allen) – Gong
Losing Our Virginity: The First 4 Years '73-'77
(Virgin)

'I'm a believer' (Diamond) – Robert Wyatt
Losing Our Virginity: The First 4 Years '73-'77
(Virgin)

'Some Velvet Phasing' (Schulze) – Klaus Schulze
Losing Our Virginity: The First 4 Years '73-'77
(Virgin)

'Fugue in D minor' (Bach arr Egg) – Egg
Egg
(Akarma)

'Wring out the Ground (Loosely Now)' (Egg) – Egg
Losing Our Virginity: The First 4 Years '73-'77
(Virgin)

'I believe in Bugs' (Cutler) – Ivor Cutlor
Losing Our Virginity: The First 4 Years '73-'77
(Virgin)

'Prelude' (Egg) – Egg
The Civil Surface
(Virgin)

'Mr Theremin' (Stewart) – Dave Stewart & Barbara Gaskin
The Big Idea
(Rykodisc)

'Yesterday and Today' (Anderson) – Yes
Yes
(Atlantic)

'Something's Coming' (Bernstein arr Yes) – Yes
Yes
(Atlantic)

'Cans and Brahms' (Brahms arr Wakeman) – Yes
Fragile
(Atlantic)

'Close to the Edge' (Anderson/Howe) – Yes
Close to the Edge
(Atlantic)

'The Ancient/Giants under the Sun' (Anderson et al) – Yes
Tales from Topographic Oceans
(Atlantic)

'White Car' (Anderson et al) – Yes
Drama
(Atlantic)

'White Car (Tracking Session)' (Anderson et al) – Yes
Drama
(Atlantic)

'Big Generator' (Rabin et al) – Yes
Big Generator
(Atlantic)

'In a World of Our Own' (Yes) – Yes
Heaven & Earth
(Atlantic)