Bella Hristova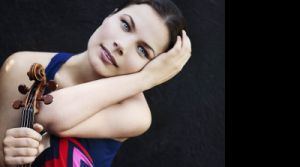 Bella Hristova is a Bulgarian violinist with a growing international career. She's familiar to New Zealand audiences, since she won the 2007 Michael Hill International Violin Competition.
Bella returned to New Zealand in May last year to give the world premiere of Anthony Ritchie's Violin Concerto, a work written specifically for her. With her naturally powerful playing and emotional intensity, Bella's charismatic performance earned her a standing ovation from her Dunedin audience.
The second half of the Southern Sinfonia's concert features Sibelius' Symphony No 1, the atmosphere of which depicts Scandinavian landscapes and natural colour, and complements Ritchie's virtuosic work.
"I cannot understand why my symphonies are so often compared with Tchaikovsky's. His symphonies are very human, but they represent the soft part of human nature. Mine are the hard ones."
Sibelius was battling comparisons with Tchaikovsky and Bruckner, until he studied his country's literary epics, including the Kalevala.  He went on to be become the musical poet of Finland.
Bella Hristova (vln), Southern Sinfonia/Tecwyn Evans
A RITCHIE: Violin Concerto (première performance & broadcast); SIBELIUS: Symphony No 1 in E minor Op 39
Recorded in the Dunedin Town Hall, by Radio New Zealand Concert