Sunday, 2 August 2015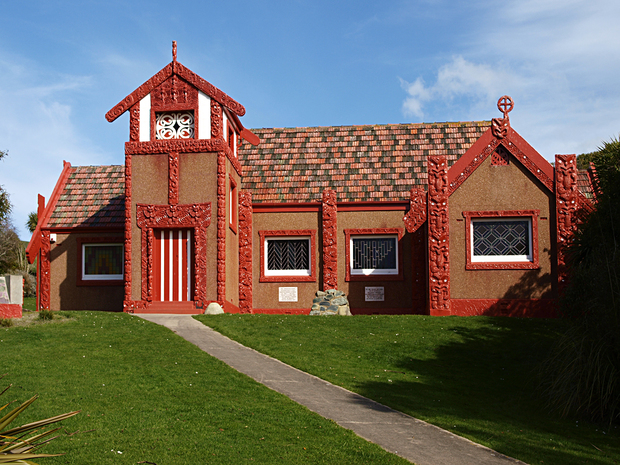 Otakou Maori Memorial Methodist Church. Image by Ulrich Lange. Source: Wikimedia Commons.
7:30 AM.A selection of traditional and modern hymns. We've lots of musical variety in the programme, including songs to mark Maori Language Week, a psalm from the Scottish Psalter and a hymn arranged for… Read more Audio
MAORI LANGUAGE WEEK 27 JULY - 2 AUGUST 2015
SONG: E TE MATUA
Artist: Mahinarangi Tocker
Words/Music: Mahinarangi Tocker
Recording: Jayrem CD JAY 379
E te Matua
Te Matua nui i te rangi
Ka arahi matou i nga mahi i raro i te aroha
E te Matua
Te Matua nui i te rangi
Me arahi matou i raro i te rangimarie
Me arahi matou i raro i te rangimarie
E te Matua
SONG: WAIRUA TAPU
Artist: New Zealand Youth Choir (2003), Karen Grylls (dir), Albert Mataaga (guitar)
Words/Music: Ngapo Wehi
Recording: Trust MMT 2048
Wairua tapu tau mai ra
wairua tapu mai runga
uhia mai taonga mai
homai to aroha

Wa hia kia tika
akona mai ra kia u kit e pai ho roia
kia ma tonu ra
Mohau te tino koroia.

[Holy Spirit embrace me
Holy Spirit from up above
encase me in the precious gifts
give to me your love.

This place of truth
teach me the things that are right
bathe me, cleanse me
to You goes the glory.]
SONG: COMPANIONS, LET US PRAY TOGETHER
Artist: Viva Voce, John Rosser (dir), Michael Bell (piano)
Words/Music: David Clark & Witi Ihimaera/David Hamilton
Recording: NZ Hymnbook Trust 941300
Companions let us pray together,
in this place affirm our faith.
God who made us is here among us;
we stand together in God's grace.

Refrain:
We are whanau, we are one,
brothers, sisters of the Son.
We are reaching for our freedom,
the prize that Christ has won.

The broken Christ stands here among us,
shares our suffering and our pain;
in breaking bread we find empowerment
to live in aroha again.
Refrain:

The risen Christ brings light and laughter,
celebrates the life we share;
the poured out wine of Christ's self-giving
inspires us to reach out and care.
Refrain:

Now let us sing to God who loves us
and accepts us as we are;
Go out from here and live that message,
proclaim our oneness near and far.
Refrain:
SONG: PSALM 24
Artist: Scottish Philharmonic Singers
Words/Music: Psalm 24/Thomson
Recording: Abbey 282830
Ye gates lift up your heads on high;
ye doors that last for aye,
be lifted up, that so the King
of glory enter may.

But who of glory is the King?
The mighty Lord is this,
ev'n that same Lord, that great in might
and strong in battle is.

Ye gates, lift up your heads; ye doors,
doors that do last for aye,
be lifted up, that so the King
of glory enter may.

But who is he that is the King,
the King of glory? who is this?
The Lord of hosts, and none but he,
the King of glory is.
SONG: MY SONG IS LOVE UNKNOWN
Artist: Choir of St John's, Elora, Noel Edison (dir), Paul Halley (organ)
Words/Music: Crossman/Ireland
Recording: Naxos 8.557037
My song is love unknown,
My saviour's love to me;
Love to the loveless shown,
That they might lovely be.
O who am I, that for my sake
My Lord should take frail flesh and die?

He came from his blest throne
Salvation to bestow;
But men made strange, and none
The longed-for Christ would know:
But O! my friend, my friend indeed,
Who at my need his life did spend.

Sometimes they strew His way,
And His sweet praises sing;
Resounding all the way
Hosannas to their King:
Then "Crucify!" is all their breath,
And for His death they thirst and cry.

Why, what hath my Lord done?
What makes this rage and spite?
He made the lame to run,
He gave the blind their sight,
Sweet injuries! Yet they at these
Themselves displease, and 'gainst Him rise.

Here might I stay and sing,
No story so divine;
Never was love, dear king!
Never was grief like thine.
This is my friend, in whose sweet praise
I all my days could gladly spend.
SONG: JESU, BLEIBET MEINE FREUDE
Artist: Albrecht Mayer (oboe), Trinity Baroque, The English Concert
Words/Music: Bach
Recording: Decca 478 1517
Jesus bleibet meine Freude,
meines Herzens Trost und Saft,
Jesus wehret allem Leide,
er ist meines Lebens Kraft,

meiner Augen Lust und Sonne,
meiner Seele Schatz und Wonne;
darum laß' ich Jesum nicht
aus dem Herzen und Gesicht.
SONG: TURN YOUR EYES UPON JESUS
Artist: Upper Norwood Salvation Army Band
Words/Music: Lemmel
Recording: Word SALCD 002
[instrumental only]

Turn your eyes upon Jesus,
Look full in His wonderful face,
And the things of earth will grow strangely dim,
In the light of His glory and grace.
SONG: THY HAND, O GOD, HAS GUIDED
Artist: Choir of Wells Cathedral, Malcolm Archer (dir), Rupert Gough (organ)
Words/Music: Plumtre/Harwood
Recording: Hyperion 711210
Thy hand, O God, has guided
thy flock from age to age;
the wondrous tale is written
full clear on every page.
Our parents owned thy goodness,
and we their deeds record;
and both to this bear witness:
one church, one faith, one Lord!

Thy heralds brought glad tidings
to greatest, as to least;
they summoned men and women
to share the great King's feast.
And this was all their teaching
in every deed and word,
to all alike proclaiming:
one church, one faith, one Lord!

Through many a day of darkness,
through many a scene of strige,
the faithful few fought bravely
to guard the nation's life.
Their gospel of redemption
sin pardoned, man restored,
was all in this enfolded,
one church, one faith, one Lord.

Thy mercy will not fail us
nor leave thy work undone;
with thy right hand to help us
thy victory shall be won.
And then by earth and heaven
thy name shall be adored;
and this shall be their anthem:
one church, one faith, one Lord!
SONG: ALL PEOPLE THAT ON EARTH DO DWELL
Artist: Choir of Westminster Abbey, James O'Donnell (dir), Robert Quinney (organ)
Words/Music: Kethe/attrib Bourgeois
Recording: Hyperion 712801
All people that on earth do dwell,
sing to the Lord with cheerful voice;
him serve with fear, his praise forth tell.
Come ye before him and rejoice.

The Lord, ye know, is God indeed;
Without our aid He did us make;
We are His folk, He doth us feed,
And for His sheep He doth us take.

O enter then His gates with praise;
Approach with joy His courts unto;
Praise, laud, and bless His name always,
For it is seemly so to do.

For why? the Lord our God is good;
His mercy is for ever sure;
His truth at all times firmly stood,
And shall from age to age endure.

To Father, Son and Holy Ghost,
The God whom Heaven and earth adore,
From men and from the angel host
Be praise and glory evermore.
Amen.