Sunday, 19 April 2015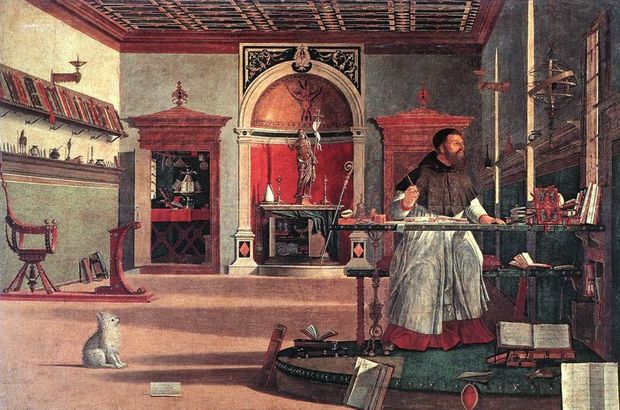 St Augustine in his study, by Vittore Carpaccio (1502). Source: Wikimedia Commons.
7:30 AM.A selection of traditional and modern hymns. This week we've included some evening hymns: Glory to Thee, my God, this Night, and the perennial favourite The Day Thou Gavest, Lord, is Ended. It was a… Read more Audio
SONG: PRAISE TO THE LORD, THE ALMIGHTY
Artist: Choir of Westminster Abbey
Words/Music: Neander trans Winkworth/Anon
Recording: Hyperion 712801
Praise to the Lord, the Almighty, the King of creation.
O my soul, praise him, for he is thy health and salvation:
All ye who hear,
brothers and sisters draw near,
praise him in glad adoration.

Praise to the Lord, who o'er all things so wondrously reigneth
shelters thee under his wings, yea, so gently sustaineth:
hast thou not see
all that his people have been
granted in what he ordaineth?

Praise to the Lord, who doth prosper thy work and defend thee;
surely his goodness and mercy here daily attend thee:
ponder anew
what the Almighty can do,
if with his love he befriend thee.

Praise to the Lord! O let all that is in me adore him!
All that hath life and breath come now with praises before him!
Let the Amen
sound from his people again:
gladly for aye we adore him.
SONG: CHRIST, WHOSE GLORY FILLS THE SKIES
Artist: St Michael's Singers
Words/Music: C Wesley/Smart
Recording: Kingsway KMCD 891
Christ, whose glory fills the skies,
Christ, the true, the only light,
Sun of righteousness, arise,
Triumph o'er the shades of night;
Dayspring from on high, be near;
Day star, in my heart appear.

Dark and cheerless is the morn
Unaccompanied by thee;
Joyless is the day's return
Till thy mercy's beams I see;
Till they inward light impart,
Glad my eyes, and warm my heart.

Visit then this soul of mine,
Pierce the gloom of sin and grief;
Fill me, radiancy divine,
Scatter all my unbelief;
More and more thyself display,
Shining to the perfect day.
SONG: LORD OF ALL HOPEFULNESS
Artist: Choir of St Clement's Church, Philadelphia
Words/Music: Struther/Trad
Recording: Dorian 790259
Lord of all hopefulness, Lord of all joy,
Whose trust, ever childlike,
no cares could destroy,
Be there at our waking,
and give us, we pray,
Your bliss in our hearts, Lord,
At the break of the day.

Lord of all eagerness, Lord of all faith,
Whose strong hands were skilled
at the plane and the lathe,
Be there at our labours
and give us, we pray,
Your strength in our hearts, Lord,
At the noon of the day.

Lord of all kindliness, Lord of all grace,
Your hands swift to welcome,
Your arms to embrace.
Be there at our homing,
and give us, we pray,
Your love in our hearts, Lord,
At the eve of the day.

Lord of all gentleness, Lord of all calm,
Whose voice is contentment,
whose presence is balm,
Be there at our sleeping,
and give us, we pray,
Your peace in our hearts, Lord,
At the end of the day.
SONG: JERUSALEM, MY HAPPY HOME
Artist: Choir of St Clement's Church, Philadelphia
Words/Music: F.B.P./Trad
Recording: Dorian 790259
Jerusalem, my happy home,
When shall I come to thee?
When shall my sorrows have an end?
Thy joys when shall I see?

Thy saints are crowned with glory great,
they see God face to face;
they triumph still, they still rejoice:
most happy is thy case.

There David stands with harp in hand
As master of the choir:
Ten thousand times that man were blessed
That might this music hear.

Our Lady sings Magnificat
With tune surpassing sweet,
And all the virgins bear their part,
Sitting at her feet.

There Magdalen hath left her moan,
And cheerfully doth sing
With blessèd saints, whose harmony
In every street doth ring.
SONG: BROTHER JAMES' AIR (THE LORD'S MY SHEPHERD)
Artist: Wells Cathedral Choir
Words/Music: Rous/Bain
Recording: Hyperion 112105
The Lord's my Shepherd; I'll not want.
He makes me down to lie
In pastures green; He leadeth me
The quiet waters by.

My soul He doth restore again;
And me to walk doth make
Within the paths of blessedness,
E'en for His own name's sake.

Yea, though I pass through shadowed vale,
Yet will I fear no ill;
For Thou art with me, and Thy rod
And staff me comfort still.

My table Thou hast furnished
In presence of my foes;
My head with oil Thou dost anoint,
And my cup overflows.

Goodness and mercy all my days
Will surely follow me;
And in my heart Forevermore
Thy dwelling place shall be.
SONG: GLORY TO THEE, MY GOD, THIS NIGHT
Artist: Cambridge Singers
Words/Music: Ken/Tallis
Recording: Collegium 880126
Glory to thee, my God, this night,
for all the blessings of the light:
keep me, O keep me, King of kings,
beneath thine own almighty wings.

Forgive me, Lord, for thy dear Son,
the ill that I this day have done;
that with the world, myself, and thee,
I, ere I sleep, at peace may be.

Teach me to live, that I may dread
the grave as little as my bed;
teach me to die, that so I may
rise glorious at the awful day.

O may my soul on thee repose,
and with sweet sleep mine eyelids close;
sleep that shall me more vigorous make
to serve my God when I awake.

Praise God, from whom all blessings flow;
praise him, all creatures here below;
praise him above, ye heavenly host:
praise Father, Son, and Holy Ghost.
SONG: THE DAY THOU GAVEST, LORD, IS ENDED
Artist: Choir of Yorkminster Baptist Church
Words/Music: Ellerton/Scholefield
Recording: Marquis Classics
The day thou gavest, Lord, is ended,
The darkness falls at Thy behest;
To Thee our morning hymns ascended,
Thy praise shall hallow now our rest.

We thank Thee that Thy Church unsleeping,
While earth rolls onward into light,
Through all the world her watch is keeping,
And rests not now by day or night.

As o'er each continent and island
The dawn leads on another day,
The voice of prayer is never silent,
Nor dies the strain of praise away.

The sun, that bids us rest, is waking
Our brethren 'neath the western sky,
And hour by hour fresh lips are making
Thy wondrous doings heard on high.

So be it, Lord; Thy throne shall never,
Like earth's proud empires, pass away:
But stand, and rule, and grow for ever,
Till all Thy creatures own Thy sway.
SONG: HOW SHALL I SING THAT MAJESTY
Artist: Choir of Holy Trinity Cathedral, Auckland
Words/Music: Mason/Naylor
Recording: Private CD 805
How shall I sing that Majesty
which angels do admire?
Let dust in dust and silence lie;
sing, sing, ye heavenly choir.
Thousands of thousands stand around
thy throne, O God most high;
ten thousand times ten thousand sound
thy praise; but who am I?

Enlighten with faith's light my heart,
inflame it with love's fire;
then shall I sing and bear a part
with that celestial choir.
I shall, I fear, be dark and cold,
with all my fire and light;
yet when thou dost accept their gold,
Lord, treasure up my mite.

How great a being Lord, is thine,
which doth all beings keep!
Thy knowledge is the only line
to sound so vast a deep.
Thou art a sea without a shore,
a sun without a sphere;
thy time is now and evermore,
thy place is everywhere.