Sunday, 5 April 2015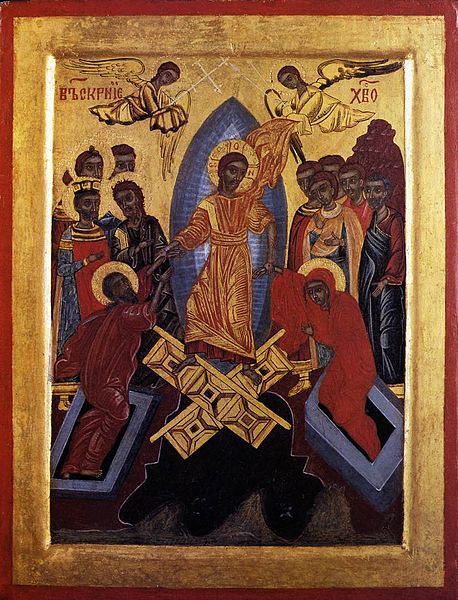 The Resurrection of Christ, by an unknown icon painter, Bulgaria. Late 17th century, tempera on linen and wood, Vatican Museum. Source: Wikimedia Commons.
7:30 AM.A selection of traditional and modern hymns. Hymns for Easter Day include This Joyful Eastertide and Thine Be The Glory. Audio
EASTER DAY
SONG: CHRIST THE LORD IS RISEN TODAY
Artist: Cantus Choro
Words/Music: C Wesley/Elvey
Recording: Move MD 3062
Christ the Lord is risen today,
Songs of men and angels say
Raise your joys and triumphs high,
Sing, o heav'ns, and earth, reply,
Love's redeeming work is done,
Fought the fight, the battle won,
Vain the stone, the watch, the seal,
Christ hath burst the gates of hell!

Lives again our glorious King
Where, O death, is now thy sting?
Once He died our souls to save,
Where's your victory, O grave?
Soar we now where Christ has led,
Following our exalted Head,
Made like Him, like Him we rise,
Ours the cross, the grave, the skies!
SONG: THIS JOYFUL EASTERTIDE
Artist: Cambridge Singers
Words/Music: Woodward/Trad
Recording: Collegium CSCD 500
This joyful Eastertide,
away with care and sorrow!
My love, the crucified,
hath sprung to life this morrow.

Refrain
Had Christ, that once was slain,
ne'er burst his three-day prison,
our faith had been in vain;
but now is Christ arisen,
arisen, arisen, arisen.

My flesh in hope shall rest,
and for a season slumber,
till trump from east to west
shall wake the dead in number.
Refrain

Death's flood hath lost its chill,
since Jesus crossed the river:
Lover of souls, from ill
my passing soul deliver.
Refrain
SONG: LOW IN THE GRAVE HE LAY
Artist: Choir of Yorkminster Park Baptist Church
Words/Music: Lowry
Recording: Marquis Classics
Low in the grave He lay
Jesus my Saviour!
Waiting the coming day
Jesus my Lord!

Refrain
Up from the grave He arose,
With a mighty triumph o'er His foes
He arose a Victor from the dark domain,
And He lives forever with His saints to reign.
He arose! He arose!
Hallelujah! Christ arose!

Vainly they watch His bed
Jesus, my Saviour!
Vainly they seal the dead
Jesus my Lord!
Refrain

Death cannot keep his prey
Jesus, my Saviour!
He tore the bars away
Jesus my Lord!
Refrain
SONG: THE DAY OF RESURRECTION
Artist: Choir of King's College, Cambridge
Words/Music: St John of Damascus trans Neale/Trad (Mainzer Gesangbuch)
Recording: Argo 414609
The day of resurrection!
Earth, tell it out abroad;
the Passover of gladness,
the Passover of God.
From death to life eternal,
from earth unto the sky,
our God hath brought us over,
with hymns of victory.

Our hearts be pure from evil,
that we may see aright
the Lord in rays eternal
of resurrection light;
and listening to his accents,
may hear so calm and plain
his own "All hail!" and, hearing,
may raise the victor strain.

Now let the heavens be joyful!
Let earth her song begin!
The round world keep high triumph,
and all that is therein!
Let all things seen and unseen
their notes in gladness blend,
for Christ the Lord is risen,
our joy that hath no end.
SONG: CHRIST TRIUMPHANT, EVER REIGNING
Artist: Choir of Wells Cathedral
Words/Music: Saward/Barnard
Recording: Hyperion 711210
Christ triumphant ever reigning,
Saviour, master, king,
Lord of heav'n, our lives sustaining,
Hear us as we sing:

Refrain
Yours the glory and the crown,
the high renown,
the eternal name.

Word incarnate, truth revealing,
Son of man on earth!
Power and majesty concealing
By your humble birth:
Refrain

Suffering servant, scorned, ill-treated,
Victim crucified!
Death is through the Cross defeated,
Sinners justified:
Refrain

Priestly king, enthroned for ever
High in heaven above!
Sin and death and hell shall never
Stifle hymns of love:
Refrain

So, our hearts and voices raising
Through the ages long,
Ceaselessly upon you gazing,
This shall be our song:
Refrain
SONG: THE LORD IS RISEN INDEED
Artist: Choir of Liverpool Metropolitan Cathedral
Words/Music: Kelly/Anon
Recording: Priory PRCD 715
The Lord is risen indeed!
Now is his work performed;
Now is the mighty Captive freed,
And death's strong castle stormed.

The Lord is risen indeed!
Then hell has lost his prey;
with him is risen the ransomed seed
to reign in endless day.

The Lord is risen indeed!
He lives, to die no more;
He lives, the sinner's cause to plead,
whose curse and shame he bore.
SONG: THINE BE THE GLORY
Artist: Choir of Portsmouth Cathedral
Words/Music: Hoyle/Handel
Recording: Herald HAVPCD 205
Thine be the glory, risen, conquering Son;
endless is the victory, thou o'er death hast won;
angels in bright raiment rolled the stone away,
kept the folded grave clothes where thy body lay.

Refrain
Thine be the glory, risen conquering Son,
Endless is the vict'ry, thou o'er death hast won.

Lo! Jesus meets us, risen from the tomb;
Lovingly he greets us, scatters fear and gloom;
let the church with gladness, hymns of triumph sing;
for her Lord now liveth, death hath lost its sting.
Refrain

No more we doubt thee, glorious prince of life;
life is naught without thee; aid us in our strife;
make us more than conquerors, through thy deathless love:
bring us safe through Jordan to thy home above.
Refrain
SONG: WORTHY IS THE LAMB, from MESSIAH
Artist: Atlanta Symphony Orchestra & Chorus
Words/Music: Text from King James Bible, compiled Jennens/Handel
Recording: Telarc CD 80119
Worthy is the Lamb that was slain,
and hath redeemed us to God by his blood,
to receive power, and riches, and wisdom, and strength,
and honour, and glory, and blessing.
Blessing and honour, glory and power,
be unto Him that sitteth upon the throne,
and unto the Lamb, for ever and ever.
Amen.