Sunday, 8 March 2015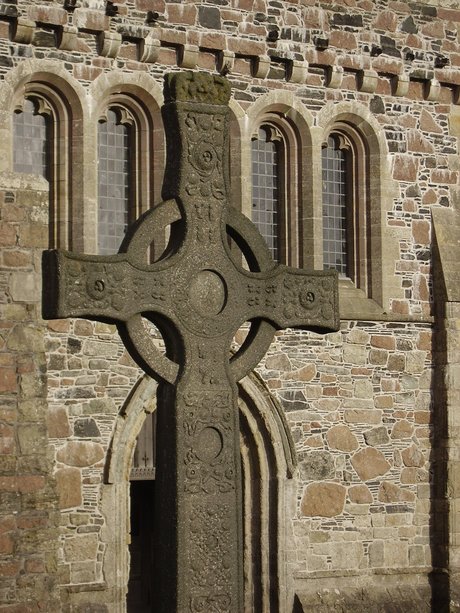 Modern replica of St John's cross, standing outside the entrance to Iona Abbey on the Isle of Iona, Scotland. The original is preserved inside the Abbey. Image by Iona Robertson. Source: Wikimedia Commons.
7:30 AM.A selection of traditional and modern hymns including a song from the Iona Community, and Isaac Watt's great hymn When I Survey the Wondrous Cross. Audio
THIRD SUNDAY IN LENT
SONG: WORSHIP THE LORD IN THE BEAUTY OF HOLINESS
Artist: Cantus Choro
Words/Music: Monsell/Anon
Recording: Move 743142
Worship the Lord in the beauty of holiness;
bow down before Him, His glory proclaim;
gold of obedience and incense of lowliness
bring, and adore him; the Lord is his Name!

Low at his feet lay thy burden of carefulness,
high on his heart he will bear it for thee,
comfort thy sorrows, and answer thy prayerfulness,
guiding thy steps as may best for thee be.

Fear not to enter his courts in the slenderness
of the poor wealth thou wouldst reckon as thine;
truth in its beauty, and love in its tenderness,
these are the offerings to lay on His shrine.

These, though we bring them in trembling and fearfulness,
he will accept for the Name that is dear;
mornings of joy give for evenings of tearfulness,
trust for our trembling, and hope for our fear.

Worship the Lord in the beauty of holiness;
bow down before Him, His glory proclaim;
gold of obedience and incense of lowliness
bring, and adore him; the Lord is his Name!
SONG: THE GOD OF ABRAHAM PRAISE
Artist: Cantus Choro
Words/Music: Anon adapted Olivers/Lyon, Olivers
Recording: Move MD3032
The God of Abraham praise, who reigns enthroned above;
Ancient of everlasting days, and God of love;
Jehovah, great I Am! by earth and heav'n confessed;
I bow and bless the sacred name forever blessed.

The God who reigns on high the great archangels sing,
And "Holy, holy, holy!" cry, "almighty king!
Who was, and is, the same, and evermore shall be:
Jehovah – father – great I Am, we worship thee!"

The whole triumphant host give thanks to God on high;
"Hail, Father, Son, and Holy Ghost," they ever cry.
Hail, Abraham's God, and mine! (I join the heav'nly lays,)
All might and majesty are thine, and endless praise.
SONG: O GOD, YOU SEARCH ME AND YOU KNOW ME
Artist: Choir of Wells Cathedral
Words/Music: Farrell/Farrell
Recording: Hyperion 112105
O God, you search me and you know me
All my thoughts lie open to your gaze
When I walk or lie down you are before me:
Ever the maker and keeper of my days.

You know my resting and my rising
You discern my purpose from afar
And with love everlasting you besiege me:
In ev'ry moment of life or death, you are.

Before a word is on my tongue, Lord,
You have known its meaning through and through.
You are with me beyond my understanding:
God of my present, my past and future, too.

Although your Spirit is upon me,
Still I search for shelter from your light.
There is nowhere on earth I can escape you:
Even the darkness is radiant in your sight.

For you created me and shaped me,
Gave me life within my mother's womb.
For the wonder of who I am, I praise you:
Safe in your hands, all creation is made new.
SONG: THERE'S A WIDENESS IN GOD'S MERCY
Artist: Choir of Grace Cathedral, San Francisco
Words/Music: Faber/Zundel
Recording: Grace Cathedral
There's a wideness in God's mercy,
like the wideness of the sea;
there's a kindness in his justice,
which is more than liberty.
There is welcome for the sinner,
and more graces for the good!
There is mercy with the Saviour;
there is healing in his blood.

There is no place where earth's sorrows
are more felt than up in heaven;
there is no place where earth's failings
have such kindly judgment given.
There is plentiful redemption
in the blood that has been shed;
there is joy for all the members
in the sorrows of the head.

For the love of God is broader
than the measure of the mind;
and the heart of the eternal
is most wonderfully kind.
If our love were but more faithful,
we should take him at his word;
and our lives would be thanksgiving
for the goodness of the Lord.
SONG: LORD JESUS CHRIST, SHALL I STAND STILL
Artist: Knox Church & College Choir
Words/Music: Trad/Maule, Bell
Recording: Praise Be, Private CD 807
Lord Jesus Christ shall I stand still
And stare at You hung on the tree
Or shall I move to where You move
And die and live again for me
Shall I to sin and failure cling
Consorting with the guilt I hate
Or on Your shoulders shall I fling
The wrong I breed and contemplate.

Shall I Your story read and tell
To note Your mark on history
Or shall I make Your story mine
And live by faith and mystery
Shall I embrace the love You show
And covet this sweet holy thing
Or of that love shall my heart speak
My hands relate my being sing.

Shall I retreat from where You fall
And seek a safer path through life
Or shall I meet You in the world
Where peace is scarce injustice rife
Lord Jesus Christ the God who lives
To love and die and rise again
Make me the who and You the why
Your way the how and now the when.
SONG: JESUS, BLEIBET MEINE FREUDE
Artist: Trinity Baroque, The English Concert, Albrecht Mayer
Words/Music: Bach
Recording: Decca 478 1517
Jesus bleibet meine Freude,
meines Herzens Trost und Saft,
Jesus wehret allem Leide,
er ist meines Lebens Kraft,

meiner Augen Lust und Sonne,
meiner Seele Schatz und Wonne;
darum laß' ich Jesum nicht
aus dem Herzen und Gesicht.
SONG: BY HIS HAND
Artist: International Staff Songsters of the Salvation Army
Words/Music: Gilmore/Mack
Recording: Salvationist Publishing & Supplies SPS 321
He leadeth me: O blessed thought!
O words with heavenly comfort fraught!
Whate'er I do, where'er I be,
still 'tis God's hand that leadeth me.

Refrain:
He leadeth me, he leadeth me;
by his own hand he leadeth me:
his faithful follower I would be,
for by his hand he leadeth me.

Sometimes mid scenes of deepest gloom,
sometimes where Eden's flowers bloom,
by waters calm, o'er troubled sea,
still 'tis God's hand that leadeth me.
Refrain

Lord, I would clasp thy hand in mine,
nor ever murmur nor repine;
content, whatever lot I see,
since 'tis my God that leadeth me.
Refrain
SONG: WHEN I SURVEY THE WONDROUS CROSS
Artist: Cambridge Singers
Words/Music: Watts/Miller
Recording: Collegium 880126
When I survey the wondrous cross
on which the Prince of glory died,
my richest gain I count but loss,
and pour contempt on all my pride.

Forbid it, Lord, that I should boast
save in the death of Christ, my God!
All the vain things that charm me most,
I sacrifice them through his blood.

See, from his head, his hands, his feet,
sorrow and love flow mingled down.
Did e'er such love and sorrow meet,
or thorns compose so rich a crown?

His dying crimson, like a robe,
spreads o'er his body on the tree;
then am I dead to all the globe,
and all the globe is dead to me.

Were the whole realm of nature mine,
that were a present far too small.
Love so amazing, so divine,
demands my soul, my life, my all.