Sunday, 4 January 2015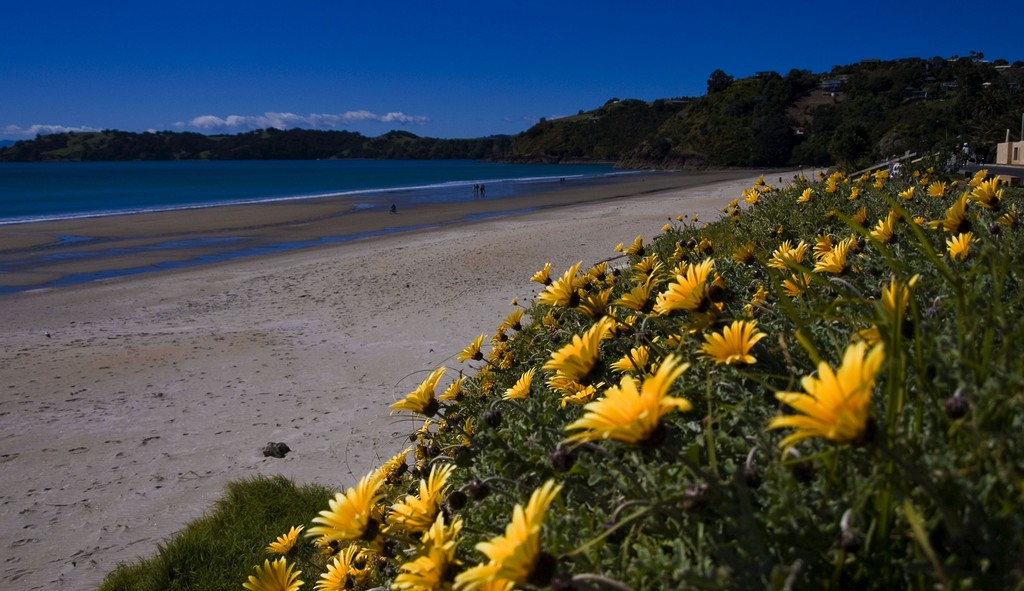 Onetangi Beach, Waiheke Island (Source: Wikimedia Commons)
7:30 AM.Traditional and modern hymns chosen by our listeners, including All things bright and beautiful, and Praise to the Lord Audio
SUMMER REQUESTS
SONG: WHEN MORNING GILDS THE SKIES
Artist: Choir of Westminster Abbey
Words/Music: Anon trans Caswall/Barnby
Recording: Priory 723
When morning gilds the skies
my heart awaking cries:
May Jesus Christ be praised!
Alike at work and prayer,
to Jesus I repair:
May Jesus Christ be praised!

The sacred minster bell
It peals over hill and dell,
May Jesus Christ be praised!
O hark to what it sings,
As joyously it rings,
May Jesus Christ be praised!

My tongue shall never tire
Of chanting in the choir
May Jesus Christ be praised!
The fairest graces spring
In hearts that ever sing,
May Jesus Christ be praised!

Be this, while life is mine,
my canticle divine:
May Jesus Christ be praised!
Sing this eternal song
through all the ages long:
May Jesus Christ be praised!
SONG: ALL THINGS BRIGHT AND BEAUTIFUL
Artist: St Michael's Singers
Words/Music: Alexander/Monk
Recording: Kingsway KMCD 851
Refrain:
All things bright and beautiful,
all creatures great and small,
all things wise and wonderful,
the Lord God made them all.

Each little flower that opens,
each little bird that sings,
He made their glowing colors;
He made their tiny wings.

[Refrain]

The cold wind in the winter,
the pleasant summer sun,
the ripe fruits in the garden,
He made them every one.

[Refrain]

The purple-headed mountain,
the river running by,
the sunset, and the morning
that brightens up the sky:

[Refrain]

He gave us eyes to see them,
and lips that we might tell
how great is God Almighty,
who has made all things well.

[Refrain]
SONG: THESE HILLS WHERE THE HAWK FLIES
Artist: The Festival Singers
Words/Music: Colin Gibson
Recording: Festivity Productions 2007
These hills where the hawk flies lonely,
beaches where the long surf rolls,
mountains where the snows reach heaven,
these are our care.

Pastures where the sheep graze calmly,
orchards where the apples grow,
gardens where the roses cluster,
these are our prayer.

Forests where the tree ferns tower,
rivers running strong and clear,
oceans where the great whales wander,
these are our care.

Race meeting race as equals,
justice for age-old wrong,
worth for every man and woman,
these are our prayer.

Cities where the young roam restless,
lives brought to deep despair,
homeless and powerless people,
these are our care.

Places where the Word is spoken,
hands held in serving love,
faiths of our many cultures,
these are our prayer

All that the old world gave us,
all that the new world brings,
language, ideas and customs,
these are our care.

Life finding joy and value,
faith seeking truth and light,
God heard and seen in all things,
this be our prayer.
SONG: IN THE LORD IS MY JOY AND SALVATION
Artist: St Thomas's Music Group
Words/Music: Rizza
Recording: Alliance Music 190892
In the Lord is my joy and salvation
He gives light to all his creation.
In the Lord is my joy and salvation,
He gives peace and true consolation.
SONG: HOW SWEET THE NAME OF JESUS SOUNDS
Artist: Choir of Ely Cathedral
Words/Music: Newton/Reinagle
Recording: Priory PRCD 703
How sweet the name of Jesus sounds
In a believer's ear!
It soothes his sorrows, heals his wounds,
And drives away his fear.

It makes the wounded spirit whole,
And calms the troubled breast;
'Tis manna to the hungry soul,
And to the weary, rest.

Dear name, the rock on which I build,
My shield and hiding place,
My never failing treasury, filled
With boundless stores of grace!

Jesus! my shepherd, husband, friend,
My prophet, priest and king,
My lord, my life, my way, my end,
Accept the praise I bring.

Weak is the effort of my heart,
And cold my warmest thought;
But when I see thee as thou art,
I'll praise thee as I ought.

Till then I would thy love proclaim
With every fleeting breath,
And may the music of thy name
Refresh my soul in death!
SONG: STARS OF THE MORNING SO GLORIOUSLY BRIGHT
Artist: Choir of Gloucester Cathedral
Composer: Neale/Smart
Album: The Complete New English Hymnal Vol. 4
CD Label: Priory
Stars of the morning, so gloriously bright,
filled with celestial resplendence and light,
these that, where night never followeth day,
raise the Trisagion ever and aye.

These are thy ministers, these dost thou own,
Lord God of Sabaoth, nearest thy throne;
these are thy ministers, these dost thou send,
Help of the helpless ones! man to defend.

These keep the guard amidst Salem's dear bowers,
Thrones, principalities, virtues and powers,
where, with the living ones, mystical four,
Cherubim, seraphim, bow and adore.

Then, when the earth was first poised in mid space,
then, when the planets first sped on their race,
then, when were ended the six days' employ,
then all the sons of God shouted for joy.

Still let them succour us; still let them fight,
Lord of angelic hosts, battling for right;
Till, where their anthems they ceaselessly pour,
We with the angels may bow and adore.
SONG: PRAISE TO THE LORD, THE ALMIGHTY
Artist: Choir of Westminster Abbey
Words/Music: Neander trans Winkworth/Anon
Recording: Hyperion 712801
Praise to the Lord, the Almighty, the King of creation.
O my soul, praise him, for he is thy health and salvation:
All ye who hear,
brothers and sisters draw near,
praise him in glad adoration.

Praise to the Lord, who o'er all things so wondrously reigneth
shelters thee under his wings, yea, so gently sustaineth:
hast thou not see
all that his people have been
granted in what he ordaineth?

Praise to the Lord, who doth prosper thy work and defend thee;
surely his goodness and mercy here daily attend thee:
ponder anew
what the Almighty can do,
if with his love he befriend thee.

Praise to the Lord! O let all that is in me adore him!
All that hath life and breath come now with praises before him!
Let the Amen
sound from his people again:
gladly for aye we adore him.