Sunday, 23 November 2014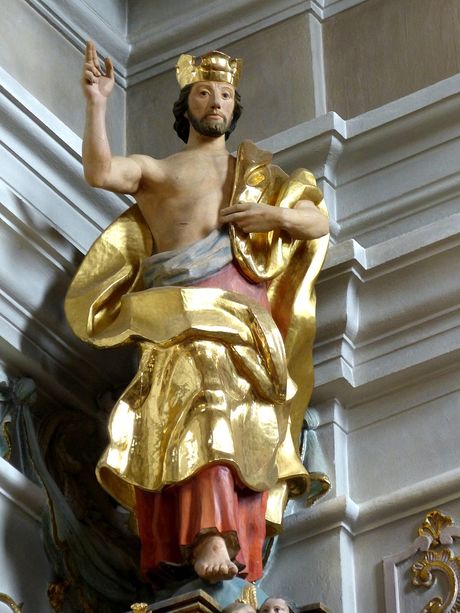 Waidhofen an der Thaya ( Lower Austria ). Parish church of the Assumption:
Pulpit - Statue of Christ the King ( 1962 ) by Paul Peschke.
Photo by Wolfgang Sauber
7:30 AM.A selection of modern and traditional hymns Audio
LAST SUNDAY AFTER PENTECOST
CHRIST THE KING
SONG: CHRIST TRIUMPHANT
Artist: Choir of Choir of Norwich Cathedral
Words/Music: Saward/Barnard
Recording: QED QED276
Christ triumphant ever reigning,
Saviour, master, king,
Lord of heav'n, our lives sustaining,
Hear us as we sing:

Refrain
Yours the glory and the crown,
the high renown,
the eternal name.

Word incarnate, truth revealing,
Son of man on earth!
Power and majesty concealing
By your humble birth:
Refrain

Suffering servant, scorned, ill-treated,
Victim crucified!
Death is through the Cross defeated,
Sinners justified:
Refrain

Priestly king, enthroned for ever
High in heaven above!
Sin and death and hell shall never
Stifle hymns of love:
Refrain

So, our hearts and voices raising
Through the ages long,
Ceaselessly upon you gazing,
This shall be our song:
Refrain
SONG: KING OF GLORY, KING OF PEACE
Artist: Wells Cathedral Choir
Words/Music: Herbert/Archer
Label: Hyperion 112101
King of glory, King of peace,
I will love thee;
and that love may never cease,
I will move thee.
Thou hast granted my request,
thou hast heard me;
thou didst note my working breast,
thou hast spared me.

Wherefore with my utmost art
I will sing thee,
and the cream of all my heart
I will bring thee.
Though my sins against me cried,
thou didst clear me;
and alone, when they replied,
thou didst hear me.

Seven whole days, not one in seven,
I will praise thee;
in my heart, though not in heaven,
I can raise thee.
Small it is, in this poor sort
to enroll thee;
e'en eternity's too short
to extol thee.
SONG: GLORIOUS THINGS OF THEE ARE SPOKEN
Artist: Choir of St Mary's Episcopal Cathedral, Edinburgh
Words/Music: Newton/Taylor
Recording: Priory PRCD 376
Glorious things of thee are spoken,
Zion, city of our God;
he whose word cannot be broken
formed thee for his own abode;
on the rock of ages founded,
what can shake thy sure repose?
With salvation's walls surrounded,
thou may'st smile at all thy foes.

See! the streams of living waters,
spring form eternal love,
well supply thy sons and daughters
and all fear of want remove.
Who can faint, when such a river
ever flows their thirst to assuage?
Grace which, like the Lord, the giver,
never fails from age to age.

Saviour, if of Zion's city,
I through grace a member am,
let the world deride or pity,
I will glory in thy name.
Fading is the worldling's pleasure,
all his boasted pomp and show;
solid joys and lasting treasure
none but Zion's children know.
SONG: I HEARD THE VOICE OF JESUS SAY
Artist: Choir of Trinity College Cambridge
Words/Music: Bonar/Vaughan Williams
Recording: Conifer 75605-51249
I heard the voice of Jesus say,
"Come unto me and rest;
lay down, O weary one, lay down
your head upon my breast."
I came to Jesus as I was,
so weary, worn, and sad;
I found him in a resting place,
and he has made me glad.

I heard the voice of Jesus say,
"Behold, I freely give
the living water, thirsty one;
stoop down and drink and live."
I came to Jesus, and I drank
of that life-giving stream;
my thirst was quenched, my soul revived,
and now I live in him.

I heard the voice of Jesus say,
"I am this dark world's light;
look unto me, your morn shall rise,
and all your day be bright."
I looked to Jesus, and I found
in him my star, my sun;
and in that light of life I'll walk
till traveling days are done.
SONG: MY SHEPHERD WILL SUPPLY MY NEED
Artist: Washington Cathedral Choral Society
Words/Music: Watts/Trad
Recording: Gothic G49112
My shepherd will supply my need --
Jehovah is his name.
In pastures fresh he makes me feed
Beside the living stream.
He brings my wand'ring spirit back
When I forsake his ways
And leads me, for his mercy's sake,
In paths of truth and grace.

When I walk thro' the shades of death
Thy presence is my stay;
One word of Thy supporting breath
Drives all my fears away.
Thy hand, in sight of all my foes,
Doth still my table spread;
My cup with blessings overflows,
Thine oil anoints my head.

The sure provisions of my God
Attend me all my days;
O may Thy house be my abode,
And all my work be praise.
There would I find a settled rest,
While others go and come;
No more a stranger, nor a guest,
But like a child at home.
SONG: THANK YOU FOR THE NIGHT
Artist: Viva Voce
Words/Music: McLeod
Recording: NZ Hymnbook Trust 941300
Thank you for the night
that will bring us the dawn,
Alleluia, bright is our Redeemer.

Thank you for the light
that reveals where we are,
Alleluia, kindly is our Comforter.

Thank you for the wind
when we open the door,
Alleluia, cleansing breath of God from afar.

Thank you for the sea
that surrounds and enfolds,
Alleluia, God our refuge and mother.

Thank you for the sky
when we lift up our heads,
Alleluia, high and free our Saviour.

Thank you for the earth
giving sweetness to all,
Alleluia, God our life, our sustainer.
SONG: FOR THE BEAUTY OF THE EARTH
Artist: Choir of St Chad's Cathedral, Birmingham
Words/Music: Pierpoint/Evans
Label: Priory PRCD 523
For the beauty of the earth,
for the beauty of the skies,
for the love which from our birth
over and around us lies.

Refrain:
Lord of all, to thee we raise
this our sacrifice of praise.

For the beauty of each hour
of the day and of the night,
hill and vale, and tree and flower,
sun and moon and stars of light: Refrain

For the joy of ear and eye,
for the heart and mind's delight,
for the mystic harmony
linking sense to sound and sight: Refrain

For the joy of human love,
brother, sister, parent, child,
friends on earth, and friends above,
for all gentle thoughts and mild: Refrain

For each perfect gift and sign
of your grace so freely given,
graces human and divine,
flowers of earth and buds of heaven: Refrain
SONG: GOD OF MERCY, GOD OF GRACE
Artist: Choir of Norwich Carthedral
Words/Music: Lyte/Smart
Label: Priory PRCD 705
God of mercy, God of grace,
show the brightness of thy face;
shine upon us, Saviour, shine;
fill thy church with light divine;
and thy saving health extend
unto earth's remotest end.

Let the people praise thee, Lord;
be by all that live adored;
let the nations shout and sing
glory to their Saviour King;
at your feet their tribute pay,
and thy holy will obey.

Let the people praise thee, Lord;
earth shall then its fruits afford,
God to man all blessings give,
man to God devoted live;
all below and all above
one in joy and light and love.
SONG: REJOICE! THE LORD IS KING
Artist: Choir of Westminster Abbey
Words/Music: C Wesley/Handel
Label: Hyperion 712801
Rejoice, the lord is king!
Your lord and king adore;
Mortals give thanks and sing,
And triumph evermore;
Lift up your heart,
Lift up your voice;
Rejoice, again I say, rejoice!

Jesus, the saviour, reigns,
The God of truth and love;
When he had purged our stains,
He took his seat above;
Lift up your heart,
Lift up your voice;
Rejoice, again I say, rejoice!

His kingdom cannot fail,
He rules o'er earth and heav'n;
The keys of death and hell
Are to our Jesus giv'n;
Lift up your heart,
Lift up your voice;
Rejoice, again I say, rejoice!

He sits at God's right hand
Till all his foes submit,
And bow to his command,
And fall beneath his feet:
Lift up your heart,
Lift up your voice;
Rejoice, again I say, rejoice!