Sunday, 19 October 2014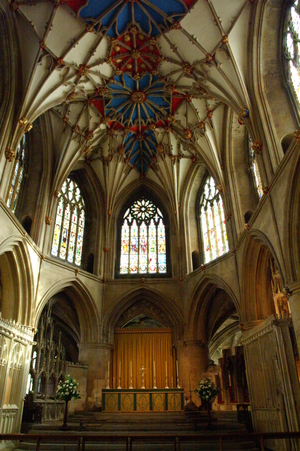 Tewkesbury Abbey interior
7:30 AM.A selection of modern and tradition hymns Audio
NINETEENTH SUNDAY AFTER PENTECOST
TWENTY-NINTH SUNDAY OF ORDINARY TIME
SONG: ALLELUIA! ALLELUIA! HEARTS TO HEAV'N
Artist: Wells Cathedral Choir
Words/Music: Wordsworth/Sullivan
Recording: Hyperion 112102
Alleluia! Alleluia!
Hearts and voice heavenward raise:
Sing to God a hymn of gladness,
Sing to God a hymn of praise:
He, Who on the cross a victim,
For the world's salvation bled,
Jesus Christ, the King of glory,
Now is risen from the dead.

Christ is risen, Christ the first-fruits
Of the holy harvest-field,
Which will all its full abundance
At His second coming yield:
Then the golden ears of harvest
Will their heads before Him wave,
Ripened by His glorious sunshine
From the furrows of the grave.

Christ is risen, we are risen!
Shed upon us heavenly grace,
Rain and dew and gleams of glory
From the brightness of Thy face:
That, with hearts in heaven dwelling,
We on earth may fruitful be,
And by angel-hands be gathered,
And be ever, Lord, with Thee.

Alleluia! Alleluia!
Glory be to God on high;
Alleluia to the Saviour
Who has won the victory;
Alleluia to the Spirit,
Fount of love and sanctity;
Alleluia! Alleluia!
To the Triune Majesty.
SONG: IMMORTAL, INVISIBLE, GOD ONLY WISE
Artist: Choirs of the Church of St Mary Magdalene, Toronto
Words/Music: Smith/Willan
Recording: Virgin VC 545109
Immortal, invisible, God only wise,
in light inaccessible hid from our eyes,
most blessed, most glorious, the Ancient of Days,
almighty, victorious, thy great name we praise.

Unresting, unhasting, and silent as light,
nor wanting, nor wasting, thou rulest in might:
thy justice, like mountains high soaring above;
thy clouds, which are fountains of goodness and love.

To all, life thou givest, to both great and small.
In all life thou livest, the true life of all.
We blossom and flourish like leaves on the tree,
then wither and perish; but naught changeth thee.

Great Father of Glory, pure Father of Light,
Thine angels adore thee, all veiling their sight;
All laud we would render: O help us to see
'Tis only the splendour of light hideth thee.
SONG: THE SPACIOUS FIRMAMENT ON HIGH
Artist: The Choir of the Abbey School, Tewkesbury
Words/Music: Addison/Sheeles
Recording: Priory PRCD 709
The spacious firmament on high,
with all the blue ethereal sky,
and spangled heavens, a shining frame,
their great Original proclaim.
The unwearied sun from day to day
does his Creator's power display;
and publishes to every land
the work of an almighty hand.

Soon as the evening shades prevail,
the moon takes up the wondrous tale,
and nightly to the listening earth
repeats the story of her birth;
while all the stars that round her burn,
and all the planets, in their turn,
confirm the tidings, as they roll
and spread the truth from pole to pole.

What though in solemn silence all
move round the dark terrestrial ball
What though no real voice nor sound
amid their radiant orbs be found?
In reason's ear they all rejoice,
and utter forth a glorious voice;
for ever singing as they shine,
'The hand that made us is divine.'
SONG: FAIREST LORD JESUS
Artist: Choir of Sacred Heart Cathedral, Wellington
Words/Music: Anon/Trad
Recording: Private CD 812
Fairest Lord Jesus, ruler of all creation,
Jesus our God and man the Son,
thee will I cherish, thee will I honour,
o thou, my soul's delight and crown!

Fair are the meadows, fairer still the woodlands,
robed in the verdure and bloom of spring:
Jesus is fairer, Jesus is purer,
he makes the saddest heart to sing.

Fair are the flowers, fairer still the sons of men,
In all the freshness of youth arrayed.
Yet is their beauty, fading and fleeting,
Thine Jesus Thine will never fade.
SONG: PSALM 103
Artist: Scottish Philharmonic Singers
Words/Music: Paraphrase by Barton/Anon
Recording: Abbey 282830
Lord, from the depths to thee I cry'd.
My voice, Lord, do thou hear:
Unto my supplication's voice
give an attentive ear.

Lord, who shall stand, if thou, O Lord,
should'st mark iniquity?
But yet with thee forgiveness is,
that fear'd thou mayest be.

I wait for God, my soul doth wait,
my hope is in his word.
More than they that for morning watch,
my soul waits for the Lord;

I say, more than they that do watch
the morning light to see.
Let Israel hope in the Lord,
for with him mercies be;

And plenteous redemption
is ever found with him.
And from all his iniquities
he Isr'el shall redeem.
SONG: JESU, LOVER OF MY SOUL
Artist: Treorchy Male Choir
Words/Music: C Wesley/J Parry
Recording: J&B JB512
Jesu, lover of my soul,
let me to thy bosom fly,
While the nearer waters roll,
while the tempest still is high.
Hide me, O my saviour, hide,
till the storm of life is past;
Safe into the haven guide;
O receive my soul at last.

Other refuge have I none,
hangs my helpless soul on thee;
Leave, ah! leave me not alone,
still support and comfort me.
All my trust on thee is stayed,
all my help from thee I bring;
Cover my defenceless head
with the shadow of thy wing.

Plenteous grace with thee is found,
grace to cover all my sin;
Let the healing streams abound;
make and keep me pure within.
Thou of life the fountain art,
freely let me take of thee;
Spring thou up within my heart;
rise to all eternity.
SONG: ORGAN PRELUDE ON RHOSYMEDRE
Artist: Andrew Lamb (org)
Music: Vaughan Williams
Recording: Conifer 75605-51249
SONG: CALON LÂN
Artist: Bryn Terfel (bbar), Black Mountain Chorus, Risca Male Choir, Welsh National Opera Orch
Words/Music: James/Hughes
Recording: DG 463 593
Gofyn wyf am galon hapus,
Calon onest, calon lân.
Nid wy'n gofyn bywyd moethus,
Aur y byd na'i berlau mân:
Gofyn wyf am galon hapus,
Calon onest, calon lân.

Pe dymunwn olud bydol,
Hedyn buan ganddo sydd;
Golud calon lân, rinweddol,
Yn dwyn bythol elw fydd.

Refrain
Calon lân yn llawn daioni,
Tecach yw na'r lili dlos:
Dim ond calon lân all ganu
Canu'r dydd a chanu'r nos.

Hwyr a bore fy nymuniad
Esgyn ar adenyyd cân
Ar i Dduw, er mwyn fy Ngheidwad,
Roddi i mi galon lân.
Refrain

Nid wy'n gofyn bywyd moethus,
Aur y byd na'i berlau mân:
Gofyn wyf am galon hapus,
Calon onest, calon lân.
Refrain
 

Rather seek a heart that's joyful,
Heart that's honest, heart that's clean.
I'd not ask a life that's easy,
Gold and pearls so little mean,
Rather seek a heart that's joyful,
Heart that's honest, heart that's clean.

Why should I seek earthly treasures,
On swift wings they fly away,
Pure clean hearts bring greater riches
That for life eternal stay.

Refrain
Heart that's clean and filled with virtue,
Fairer far than lilies white,
Only pure hearts praise God truly,
Praise him all the day and night.

Dawn and sunset still I'm searching,
Reaching on the wings of song,
Give me Lord, through Christ my Saviour
That clean heart for which I long.
Refrain

I'd not ask a life that's easy,
Gold and pearls so little mean,
Rather seek a heart that's joyful,
Heart that's honest, heart that's clean.
Refrain

Translation by Malcolm Cowen
Source: Wikipedia