Sunday, 20 July 2014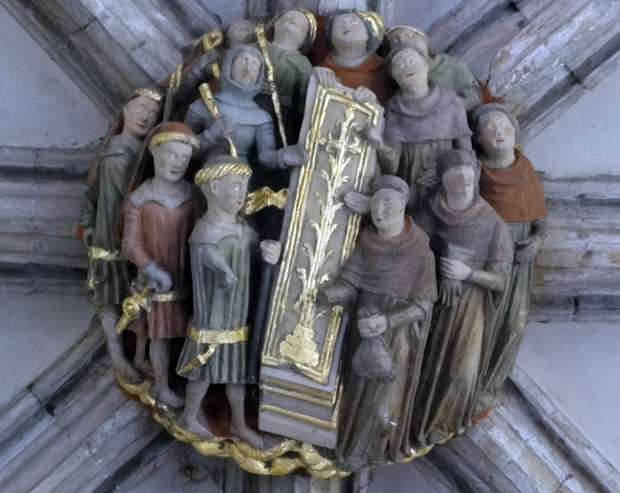 Norwich Cathedral, cloister ceiling detail
7:30 PM.A selection of traditional and modern hymns Audio
SIXTH SUNDAY AFTER PENTECOST
SIXTEENTH SUNDAY OF ORDINARY TIME
SONG: HOW SHALL I SING THAT MAJESTY
Artist: Choir of Holy Trinity Cathedral, Auckland
Words/Music: Mason/Naylor
Recording: Private CD 805
How shall I sing that Majesty
which angels do admire?
Let dust in dust and silence lie;
sing, sing, ye heavenly choir.
Thousands of thousands stand around
thy throne, O God most high;
ten thousand times ten thousand sound
thy praise; but who am I?

Enlighten with faith's light my heart,
inflame it with love's fire;
then shall I sing and bear a part
with that celestial choir.
I shall, I fear, be dark and cold,
with all my fire and light;
yet when thou dost accept their gold,
Lord, treasure up my mite.

How great a being Lord, is thine,
which doth all beings keep!
Thy knowledge is the only line
to sound so vast a deep.
Thou art a sea without a shore,
a sun without a sphere;
thy time is now and evermore,
thy place is everywhere.
SONG: THE GOD OF ABRAHAM PRAISE
Artist: Choir of Norwich Cathedral
Words/Music: Ben Judah, Olivers/Lyon.
Recording: QED QED 276
The God of Abraham praise,
Who reigns enthroned above;
Ancient of everlasting days,
And God of love.
To Him uplift your voice,
At whose supreme command
From earth we rise, and seek the joys
At His right hand.

There dwells the Lord our king,
The Lord our righteousness,
Triumphant o'er the world and sin,
The Prince of Peace.
On Zion's sacred height
His kingdom He maintains,
And, glorious with His saints in light,
Forever reigns.

Before the great Three-One
they all exulting stand;
And tell the wonders He hath done,
through all their land:
The listening spheres attend,
and swell the growing fame;
And sing, in songs which never end,
the wondrous name.

The whole triumphant host
Give thanks to God on high;
"Hail, Father, Son, and Holy Ghost!"
They ever cry;
Hail, Abraham's God and mine!
I join the heavenly lays;
All might and majesty are thine,
And endless praise.
SONG: HONOUR THE EARTH
Artist: Orlando Singers
Words/Music: Murray/Mews
Recording: Private CD 808
God of the galaxies spinning in space,
God of the smallest seed, our living source:
yours is the gift of this beautiful place  --

Refrain:
Let us care for your garden and honour the earth.

Careless and covetous, gross are our greeds
taking the riches the garden provides,
wasting its goodness, forgetting its needs,

Refrain:

Forests and rivers are ravaged and die,
raped is the land till it bleeds in its clay,
silenced the birdsong and plundered the sea --

Refrain:

Let there be beauty and let there be air
fragrant with peace, never poisoned with fear,
freed from the plagues of pollution and war,

Refrain:

Life is a holy thing, life is a whole,
linking each creature and blessing us all,
making connections of body and soul,

Refrain:
SONG: TURN YOUR EYES UPON JESUS
Artist: Upper Norwood Salvation Army Band
Words/Music: Lemmell
Recording: Word SALCD 002
Turn your eyes upon Jesus,
Look full in His wonderful face,
And the things of earth will grow strangely dim,
In the light of His glory and grace.
SONG: GREAT IS THY FAITHFULNESS
Artist: Upper Norwood Salvation Army Band
Words/Music: Chisholm/Runyon
Recording: Word SALCD 002
"Great is thy faithfulness," O God my Father,
There is no shadow of turning with thee;
Thou changest not, thy compassions, they fail not;
As thou hast been thou for ever wilt be.

Refrain:
"Great is thy faithfulness!
Great is thy faithfulness!"
Morning by morning new mercies I see:
All I have needed thy hand hath provided—
"Great is thy faithfulness," Lord unto me!

Summer and winter, and springtime and harvest,
Sun, moon and stars in their courses above,
Join with all nature in manifold witness
To thy great faithfulness, mercy and love.

Refrain:

Pardon for sin and a peace that endureth,
Thine own dear presence to cheer and to guide;
Strength for today and bright hope for tomorrow,
Blessings all mine, with ten thousand beside!

Refrain:
SONG: JESUS LOVES ME
Artist: Upper Norwood Salvation Army Band
Composer: Warner, Bradbury/Bradbury
Label: Word SALCD 002
Jesus loves me! this I know,
For the Bible tells me so;
Little ones to Him belong;
They are weak, but He is strong.

Refrain:
Yes, Jesus loves me,
Yes, Jesus loves me,
Yes, Jesus loves me,
The Bible tells me so.

Jesus loves me! He who died
Heaven's gates to open wide!
He will wash away my sin,
Let His little child come in. [Refrain]

Jesus loves me! loves me still,
Though I'm very weak and ill;
From His shining throne on high,
Comes to watch me where I lie. [Refrain]

Jesus loves me! He will stay
Close beside me all the way;
If I love Him, when I die
He will take me home on high. [Refrain]
SONG: SHALL WE GATHER AT THE RIVER
Artist: Oregon Catholic Press Choir
Composer: Lowry
Label: OCP
Shall we gather at the river,
Where bright angel feet have trod;
With its crystal tide forever
Flowing by the throne of God?

Refrain:
Yes, we'll gather at the river,
The beautiful, the beautiful river;
Gather with the saints at the river
That flows by the throne of God.

Soon we'll reach the shining river,
Soon our pilgrimage will cease;
Soon our happy hearts will quiver
With the melody of peace. [Refrain]
SONG: HOW CAN I KEEP FROM SINGING
Artist: Con Anima, Nick Field (oboe)
Words/Music: Lowry
CD Label: Private 1469
My life flows on in endless song;
Above earth's lamentation
I hear the sweet though far off hymn
That hails a new creation:
Through all the tumult and the strife
I hear the music ringing;
It finds an echo in my soul—
How can I keep from singing?

What though my joys and comforts die?
The Lord my Savior liveth;
What though the darkness gather round!
Songs in the night He giveth:
No storm can shake my inmost calm
While to that refuge clinging;
Since Christ is Lord of Heav'n and earth,
How can I keep from singing?

I lift mine eyes; the cloud grows thin;
I see the blue above it;
And day by day this pathway smoothes
Since first I learned to love it:
The peace of Christ makes fresh my heart,
A fountain ever springing:
All things are mine since I am His—
How can I keep from singing?
SONG: FORTH IN THY NAME, O LORD, I GO
Artist: Dorian Choir
Words/Music: C Wesley/Gibbons
CD Label: Private 1469
Forth in Thy Name, O Lord, I go,
My daily labor to pursue;
Thee, only Thee, resolved to know
In all I think, or speak, or do.

The task Thy wisdom hath assigned
O let me cheerfully fulfill;
In all my works Thy presence find,
And prove Thy good and perfect will.

Thee may I set at my right hand,
Whose eyes mine inmost substance see,
And labor on at Thy command,
And offer all my works to Thee.

Give me to bear Thy easy yoke,
And every moment watch and pray;
And still to things eternal look,
And hasten to Thy glorious day:

Fain would I still for Thee employ
Whate'er Thy bounteous grace hath given,
And run my course with even joy,
And closely walk with Thee to Heaven.