Sunday, 8 June 2014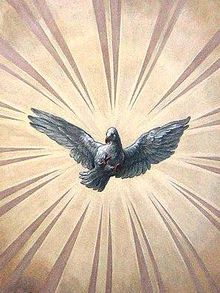 The Holy Spirit depicted as a dove. Johann Michael Rottmayr (ca. 1714)
7:30 AM.A selection of traditional and modern hymns. Audio
PENTECOST / WHITSUNDAY
SONG: COME DOWN O LOVE DIVINE
Artist: Choir of Trinity College, Cambridge
Words/music: Da Siena/Vaughan Williams
Recording: Conifer 75605-51249
Come down, O love divine,
seek thou this soul of mine,
And visit it with thine
own ardour glowing.
O comforter, draw near,
within my heart appear,
And kindle it,
thy holy flame bestowing.

O let it freely burn,
til earthly passions turn
To dust and ashes
in its heat consuming;
And let thy glorious light
shine ever on my sight,
And clothe me round,
the while my path illuming.

Let holy charity
mine outward vesture be,
And lowliness
become mine inner clothing;
True lowliness of heart,
which takes the humbler part,
And o'er its own shortcomings
weeps with loathing.

And so the yearning strong,
with which the soul will long,
Shall far outpass the power
of human telling;
For none can guess its grace,
till he become the place
Wherein the Holy Spirit
makes his dwelling.
SONG: GRACIOUS SPIRIT, HOLY GHOST
Artist: Choir of St Chad's Cathedral, Birmingham
Words/music: Wordsworth/Stainer
Recording: Priory PRCD 723
Gracious Spirit, Holy Ghost,
Taught by thee we covet most
Of thy gifts of Pentecost
Holy, heavenly love.

Love is kind, and suffers long
Love is meek, and thinks no wrong,
Love than death itself more strong;
Therefore, give us love.

Prophecy will fade away,
Melting in the light of day,
Love will ever with us stay;
Therefore, give us love.

Faith will vanish into sight;
Hope be emptied in delight;
Love in heaven will shine more bright;
Therefore, give us love.

Faith and hope and love we see
Joining hand in hand agree;
But the greatest of the three,
And the best, is love.

From the overshadowing
Of thy gold and silver wing
Shed on us, who to thee sing,
Holy, heavenly love.
SONG: BREATHE ON ME BREATH OF GOD
Artist: Orpheus Choir, Wellington
Words/music: Hatch/Lockhart
Recording: Private
Breathe on me, Breath of God,
fill me with life anew,
that I may love the way you love,
and do what you would do.

Breathe on me, Breath of God,
until my heart is pure,
until my will is one with yours,
to do and to endure.

Breathe on me, Breath of God,
so shall I never die,
but live with you the perfect life
for all eternity.
SONG: O FOR A THOUSAND TONGUES
Artist: St Michael's Singers
Words/music: C Wesley/Jarman
Recording: Kingsway KMCD 583
O for a thousand tongues to sing
my great Redeemer's praise,
the glories of my God and King,
the triumphs of his grace!

Jesus! the name that charms our fears,
that bids our sorrows cease,
'tis music in the sinner's ears,
'tis life and health and peace.

See all your sins on Jesus laid,
the Lamb of God was slain.
His soul was once an offering made
for every soul of man.

He breaks the power of cancelled sin,
he sets the prisoner free;
his blood can make the foulest clean;
his blood availed for me.

He speaks, and listening to his voice
new life the dead receive,
the mournful broken hearts rejoice,
the humble poor believe.

Hear Him, ye deaf, His praise, ye dumb
your loosened tongues employ,
ye blind, behold your Saviour come,
and leap ye lame for joy!

My gracious Master and my God,
assist me to proclaim,
to spread thro' all the earth abroad
the honours of your name.
SONG: GIVE ME THE FAITH
Artist: St Michael's Singers
Words/music: C Wesley/Wright, Norton
Recording: Kingsway KMCD 583
Give me the faith which can remove
And sink the mountain to a plain;
Give me the childlike praying love,
Which longs to build Thy house again;
Thy love, let it my heart o'erpow'r,
And all my simple soul devour.

I want an even strong desire,
I want a calmly fervent zeal,
To save poor souls out of the fire,
To snatch them from the verge of hell,
And turn them to a pard'ning God,
And quench the brands in Jesus' blood.

I would the precious time redeem,
And longer live for this alone:
To spend and to be spent for them
Who have not yet my Savior known;
Fully on these my mission prove,
And only breathe, to breathe Thy love.

My talents, gifts, and graces, Lord,
Into Thy blessed hands receive;
And let me live to preach Thy Word,
And let me to Thy glory live;
My every sacred moment spend
In publishing the sinner's Friend.

Enlarge, inflame, and fill my heart
With boundless charity divine,
So shall I all my strength exert,
And love them with a zeal like Thine,
And lead them to Thy open side,
The sheep for whom the Shepherd died.
SONG: DEAR LORD & FATHER OF MANKIND
Artist: Choir of King's College Cambridge
Words/music: Whittier/Parry
Recording: Priory PRCD 720
Dear Lord and father of mankind,
Forgive our foolish ways;
Reclothe us in our rightful mind,
In purer lives thy service find,
In deeper reverence, praise.

In simple trust like theirs who heard,
Beside the Syrian sea,
The gracious calling of the Lord,
Let us, like them, without a word,
Rise up and follow thee.

Drop thy still dews of quietness,
Till all our strivings cease;
Take from our souls the strain and stress,
And let our ordered lives confess
The beauty of thy peace.

Breathe through the heats of our desire
Thy coolness and thy balm,
Let sense be dumb, let flesh retire;
Speak through the earthquake, wind and fires,
O still small voice of calm!
SONG: SPIRIT OF MERCY
Artist: Choir of Newcastle Cathedral
Words/music: Anon/Shaw
Recording: Priory PRCD 720
Spirit of mercy, truth, and love,
O shed Thine influence from above;
And still from age to age convey
The wonders of this sacred day.

In every clime, by every tongue,
Be God's surpassing glory sung:
Let all the listening earth be taught
The wonders by our Saviour wrought.

Unfailing Comfort, heavenly Guide,
Still o'er Thy holy Church preside;
Still let mankind Thy blessings prove;
Spirit of mercy, truth, and love.
SONG: COME THOU FOUNT OF EVERY BLESSING
Artist: Kansas City Chorale
Words/music: Robertson/Wyeth or Nettleton
Recording: Nimbus NI 5568
Come Thou Fount of every blessing
Tune my heart to sing Thy grace;
Streams of mercy, never ceasing,
Call for songs of loudest praise
Teach me some melodious sonnet,
Sung by flaming tongues above.
Praise the mount! I'm fixed upon it,
Mount of God's unchanging love.

Here I raise my Ebenezer;
Hither by Thy help I'm come;
And I hope, by Thy good pleasure,
Safely to arrive at home.
Jesus sought me when a stranger,
Wandering from the fold of God;
He, to rescue me from danger,
Interposed His precious blood.

O to grace how great a debtor
Daily I'm constrained to be!
Let that grace now like a fetter,
Bind my wandering heart to Thee.
Prone to wander, Lord, I feel it,
Prone to leave the God I love;
Here's my heart, O take and seal it,
Seal it for Thy courts above.