Sunday, 11 May 2014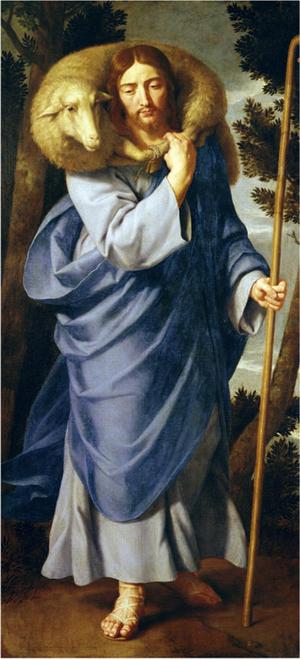 Good Shepherd by Jean Baptiste de Champaigne (1631 - 1681)
Palais des Beaux-Arts de Lille
FOURTH SUNDAY OF EASTER
GOOD SHEPHERD SUNDAY
SONG: PRAISE TO THE LORD, THE ALMIGHTY
Artist: Choir of Westminster Abbey
Words/Music : Neander trans. Winkworth/Anon.
Recording: Hyperion 712801
Praise to the Lord, the Almighty, the King of creation.
O my soul, praise him, for he is thy health and salvation:
All ye who hear,
brothers and sisters draw near,
praise him in glad adoration.

Praise to the Lord, who o'er all things so wondrously reigneth
shelters thee under his wings, yea, so gently sustaineth:
hast thou not see
all that his people have been
granted in what he ordaineth?

Praise to the Lord, who doth prosper thy work and defend thee;
surely his goodness and mercy here daily attend thee:
ponder anew
what the Almighty can do,
if with his love he befriend thee.

Praise to the Lord! O let all that is in me adore him!
All that hath life and breath come now with praises before him!
Let the Amen
sound from his people again:
gladly for aye we adore him.
SONG: THE LORD'S MY SHEPHERD
Artist: Choir of Westminster Abbey
Words/Music: Rous/Irvine
Recording: Hyperion 712801
The Lord's my Shepherd; I'll not want.
He makes me down to lie
In pastures green; He leadeth me
The quiet waters by.

My soul He doth restore again;
And me to walk doth make
Within the paths of righteousness,
E'en for His own name's sake.

Yea, though I walk through death's dark vale,
Yet will I fear no ill;
For Thou art with me, and Thy rod
And staff me comfort still.

My table Thou hast furnished
In presence of my foes;
My head Thou dost with oil anoint,
And my cup overflows.

Goodness and mercy all my life
Shall surely follow me;
And in God's house Forevermore
My dwelling place shall be.
SONG: ALL MY HOPE ON GOD IS FOUNDED
Artist: CBSO Chorus
Words/Music: Neander trans. Bridges/Howells
Recording: Conifer 500521
All my hope on God is founded;
all my trust he will renew;
safe through change and chance he guides me,
only good and only true:
God unknown,
he alone
calls my heart to be his own.

Mortal pride and earthly glory,
sword and crown betray God's trust;
though with care and toil we build them,
tower and temple fall to dust.
But God's power,
hour by hour,
is my temple and my tower.

God's great goodness e'er enduring,
deep his wisdom, passing thought;
splendour, light and life attend him,
beauty springing out of naught.
Evermore
from his store
new-born worlds rise and adore.

Daily doth the almighty Giver
bounteous gifts on us bestow;
his desire our soul delighteth,
pleasure leads us where we go.
Love doth stand at his hand;
joy doth wait on his command.

Still from earth to God eternal
sacrifice of praise be done,
high above all praises praising
for the gift of Christ, his Son.
Christ doth call one and all:
ye who follow shall not fall.
SONG: MY SHEPHERD WILL SUPPLY MY NEED
Artist: Washington Cathedral Choral Society
Words/Music: Watts/Trad.
Recording: Gothic G49112
My shepherd will supply my need --
Jehovah is his name.
In pastures fresh he makes me feed
Beside the living stream.
He brings my wand'ring spirit back
When I forsake his ways
And leads me, for his mercy's sake,
In paths of truth and grace.

When I walk thro' the shades of death
Thy presence is my stay;
One word of Thy supporting breath
Drives all my fears away.
Thy hand, in sight of all my foes,
Doth still my table spread;
My cup with blessings overflows,
Thine oil anoints my head.

The sure provisions of my God
Attend me all my days;
O may Thy house be my abode,
And all my work be praise.
There would I find a settled rest,
While others go and come;
No more a stranger, nor a guest,
But like a child at home.
SONG: WHO ARE WE WHO STAND AND SING?
Artist: Choir of Belfast Cathedral
Words/Music: O'Driscoll/Vaughan Williams
Recording: Priory PRCD 826
Who are we who stand and sing?
We are God's people
What this wine and bread we bring?
Food for God's people
As once with twelve Christ spake
Poured wine, and bread did break.
He now of us will make a faithful people.

What command does Christ impart
To us his people?
Soul and strength and mind and heart
Serve me my people
As he in love came low,
Our world and work to know,
To life he bids us go to be his people

Who are we who say one creed?
We are God's people
What the word we hear and read?
Word of God's people
Through time in every race
From earth to farthest space
We'll be with Christ's good grace a faithful people.
SONG: TOOKU HĒPARA KŌ IHU (MY SHEPHERD IS JESUS)
Artist: Auckland Anglican Maori Club
Composer: Trad.
Label: RCA VRL 20483
Text not available
SONG: LOVING SHEPHERD OF THY SHEEP
Artist: Temple Church Choir
Words/Music: Leeson/Hayne
CD Label: EMI 948306
Loving Shepherd of Thy sheep,
Keep Thy lamb, in safety keep;
Nothing can Thy power withstand;
None can pluck me from Thy hand.

Loving Savior, Thou didst give
Thine own life that we might live;
And the hands outstretched to bless
Bear the cruel nails' impress.

We would praise Thee every day,
Gladly all Thy will obey,
Like Thy blessed ones above
Happy in Thy precious love.

Loving Shepherd, ever near,
Teach Thy lambs Thy voice to hear;
Suffer not our steps to stray
From the strait and narrow way.

Where Thou leadest we would go,
Walking in Thy steps below,
Till before our Father's throne
We shall know as we are known.
SONG: CHRIST IS OUR CORNERSTONE
Artist: Cantus Choro
Words/Music: Anon trans. Chandler/Havergal
CD Label: MOVE 743142
Christ is our corner-stone,
On Him alone we build;
With His true saints above
The courts of heaven are filled,
On His great love our hopes we place
Of present grace and joys above.

O then with hymns of praise
These hallowed courts shall ring;
Our voices we will raise
The Three in One to sing;
And thus proclaim in joyful song,
Both loud and long that glorious Name.

Here, gracious God, do Thou
For evermore draw nigh;
Accept each faithful vow,
And mark each suppliant sigh;
In copious shower on all who pray,
Each holy day, Thy blessings pour.

Here may we gain from heaven
The grace which we implore;
And may that grace, once given,
Be with us evermore,
Until that day when all the blest
To endless rest are called away.
SONG: THE LORD IS MY SHEPHERD
Artist: Enchanted Voices, Tippett Quartet
Words/Music: Goodall
CD Label: Classic FM CFMD13
The Lord is my Shepherd;
I shall not want.

He maketh me to lie down in green pastures:
He leadeth me beside the still waters.

Yea, though I walk through the valley of the shadow of death, I will
fear no evil:
For you are with me; you will comfort me.

Surely goodness and mercy shall follow me all the days of my life:
And I will dwell in the house of the Lord forever.

Forever.