Sunday, 13 April 2014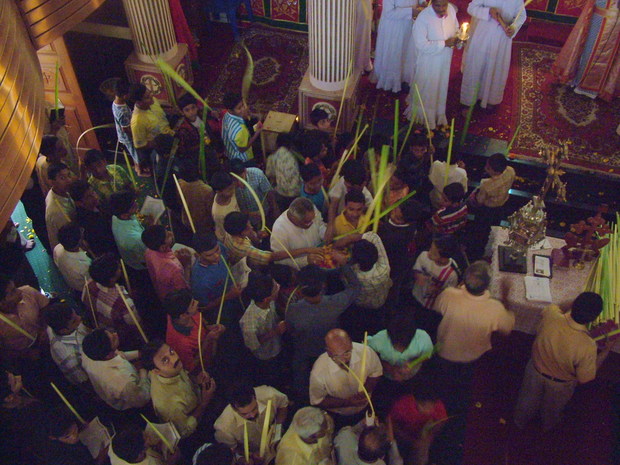 The congregation in an Oriental Orthodox church in India collects palm fronds for the Palm Sunday procession.
PALM SUNDAY
PASSION SUNDAY
SONG: ALL GLORY LAUD AND HONOUR
Artist: Choir of Kings College Cambridge
Words/Music : Teschner/Bach/Neale
Recording: Decca 448685
Refrain
All glory, laud and honour,
To thee, redeemer, king,
To whom the lips of children
Made sweet hosannas ring.

Thou art the king of Israel,
Thou David's royal son,
Who in the Lord's name comest,
The king and blessed one.

Refrain

The company of angels
Are praising thee on high,
And mortal men and all things
Created make reply.

Refrain

The people of the Hebrews
With palms before thee went;
Our prayer and praise and anthems
Before thee we present.

Refrain

To thee, before thy passion,
They sang their hymns of praise;
To thee, now high exalted,
Our melody we raise.

Refrain

Thou didst accept their praises;
Accept the prayers we bring,
Who in all good delightest,
Thou good and gracious king.

Refrain
SONG: THE ROYAL BANNERS FORWARD GO
Artist: Choir of St John's Cathedral Napier
Words/Music: Fortunatus trans. Neale/Buck
Recording: Radio New Zealand recording
The royal banners forward go,
The cross shines forth in mystic glow;
Where he in flesh, our flesh who made,
Our sentence bore, our ransom paid.

There whilst he hung, his sacred side
By soldier's spear was opened wide,
To cleanse us in the precious flood
Of water mingled with his blood.

Fulfilled is now what David told
In true prophetic song of old,
How God the heathen's king should be;
For God is reigning from the tree.

O tree of glory, tree most fair,
Ordained those holy limbs to bear,
How bright in purple robe it stood,
The purple of a saviour's blood!

To thee, eternal three in one,
Let homage meet by all be done:
As by the cross thou dost restore,
So rule and guide us evermore.

Amen.
SONG: SING MY TONGUE THE GLORIOUS BATTLE
Artist: Choir of Wakefield Cathedral
Words/Music: Fortunatus trans. Dearmer & Neale/Trad
Recording: Priory PRCD 711
Sing, my tongue, the glorious battle,
Sing the ending of the fray;
Now above the cross, the trophy,
Sound the loud triumphant lay:
Tell how Christ the world's Redeemer,
As a victim won the day.

God in pity saw man fallen,
Shamed and sunk in misery,
When he fell on death by tasting
Fruit of the forbidden tree:
Then another tree was chosen
Which the world from death should free.

Therefore when the appointed fullness
Of the holy time was come,
He was sent who maketh all things
Forth from God's eternal home:
Thus he came to earth, incarnate,
Offspring of a maiden's womb.

Thirty years among us dwelling,
Now at length his hour fulfilled,
Born for this, he meets his Passion,
For that this he freely willed,
On the cross the lamb is lifted,
Where his life-blood shall be spilled.

To the trinity be glory,
To the father and the son,
With the co-eternal spirit,
Ever three and ever one,
One in love and one in splendour,
While unending ages run.

Amen.
SONG: WE SING THE PRAISE OF HIM WHO DIED
Artist: Choir of St Mary's Episcopal Cathedral Edinburgh
Words/Music: Kelly/Nicholson
Recording: Priory PRCD 376
We sing the praise of him who died,
of him who died upon the cross;
the sinner's hope let men deride;
for this we count the world but loss.

Inscribed upon the cross we see
in shining letters, God is love:
he bears our sins upon the tree:
he brings us mercy from above.

It makes the coward spirit brave,
and nerves the feeble arm for fight;
it takes its terror from the grave,
and gilds the bed of death with light.

The balm of life, the cure of woe,
the measure and the pledge of love,
the sinner's refuge here below,
the angel's theme in heaven above.
SONG: DROP, DROP, SLOW TEARS
Artist: Gabrieli Consort
Words/Music: Fletcher/Gibbons
Recording: Signum SIGCD 281
Drop, drop, slow tears,
And bathe those beauteous feet,
Which brought from Heav'n
The news and Prince of Peace.

Cease not, wet eyes,
His mercies to entreat;
To cry for vengeance:
Sin doth never cease.

In your deep floods
Drown all my faults and fears;
Nor let His eye see
Sin, but through my tears.
SONG: MY SONG IS LOVE UNKNOWN
Artist: Choir of St John's Church, Elora
Words/Music: Crossman/Ireland
Recording: Naxos 8.557037
My song is love unknown,
My saviour's love to me;
Love to the loveless shown,
That they might lovely be.
O who am I, that for my sake
My Lord should take frail flesh and die?

He came from his blest throne
Salvation to bestow;
But men made strange, and none
The longed-for Christ would know:
But O! my friend, my friend indeed,
Who at my need his life did spend.

Sometimes they strew His way,
And His sweet praises sing;
Resounding all the way
Hosannas to their King:
Then "Crucify!" is all their breath,
And for His death they thirst and cry.

Why, what hath my Lord done?
What makes this rage and spite?
He made the lame to run,
He gave the blind their sight,
Sweet injuries! Yet they at these
Themselves displease, and 'gainst Him rise.

Here might I stay and sing,
No story so divine;
Never was love, dear king!
Never was grief like thine.
This is my friend, in whose sweet praise
I all my days could gladly spend.
SONG: GLORY BE TO JESUS
Artist: Choir of Kings College, Cambridge
Composer: Caswall/Filitz
Recording: Decca 452 252
Glory be to Jesus,
who in bitter pains
poured for me the life blood
from his sacred veins!

Grace and life eternal
in that blood I find,
blest be his compassion
infinitely kind!

Blest through endless ages
be the precious stream
which from endless torment
did the world redeem!

Lift ye then your voices;
swell the mighty flood;
louder still and louder
praise the precious blood.
SONG: REJOICE, THE LORD IS KING
Artist: Choir of Westminster Abbey
Composer: Wesley/Handel
Label: Hyperion 712801
Rejoice, the lord is king!
Your lord and king adore;
Mortals give thanks and sing,
And triumph evermore;
Lift up your heart,
Lift up your voice;
Rejoice, again I say, rejoice!

Jesus, the saviour, reigns,
The God of truth and love;
When he had purged our stains,
He took his seat above;
Lift up your heart,
Lift up your voice;
Rejoice, again I say, rejoice!

His kingdom cannot fail,
He rules o'er earth and heav'n;
The keys of death and hell
Are to our Jesus giv'n;
Lift up your heart,
Lift up your voice;
Rejoice, again I say, rejoice!

He sits at God's right hand
Till all his foes submit,
And bow to his command,
And fall beneath his feet:
Lift up your heart,
Lift up your voice;
Rejoice, again I say, rejoice!

Rejoice in glorious hope!
Jesus the judge shall come,
And take his servants up
To their eternal home.
We soon shall hear
Th'archangel's voice;
The trump of God shall sound, rejoice!
SONG: RIDE ON RIDE ON IN MAJESTY
Artist: Cantus Choro
Words/Music: Milman/Dykes
CD Label: Move MD 3062
Ride on, ride on, in majesty!
Hark! all the tribes hosanna cry;
O Saviour meek, pursue your road
With palms and scattered garments strowed.

Ride on, ride on, in majesty!
In lowly pomp ride on to die!
O Christ! Your triumph now begin
O'er captive death and conquered sin.

Ride on, ride on, in majesty!
Your last and fiercest strife is nigh;
The father, on his sapphire throne,
Awaits his own anointed son.

Ride on, ride on, in majesty!
In lowly pomp ride on to die;
Bow your meek head to mortal pain,
Then take, O God, your power, and reign.