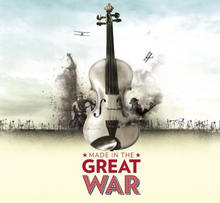 In today's ANZAC Day edition of Global Sounds, we've the story (told in music and words) of a violin and the Great War.

The instrument in question belongs to Sam Sweeney, who's the fiddle player in British folk band, Bellowhead. He bought the violin in an Oxford music shop in 2009, and was curious to find out why it looked like a newly-made instrument, despite having a date of 1915 on the inside label.

His research uncovered the poignant story of Richard Howard, a luthier and musician from Leeds who made the violin but was called up to fight on the front line in World War One before completing it.
Music details
SWEENEY, HARBRON, TRAD: Made in the Great War  (Rootbeat 892552)
Hugh Lupton (narrator)
Sam Sweeney (fiddle, viola, cello, vocals, percussion)
Rob Harbron (English concertina, fiddle, vocals, harmonium)
Paul Sartin (oboe, cor anglais, vocals, fiddle)