Baul songs from Bengal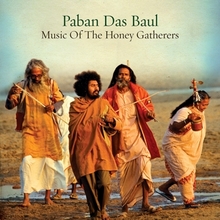 The Bauls are a group of mystic minstrels from Bengal, the region in the northeast of the Indian subcontinent that's now divided between Bangladesh and India.
The melodies of Baul songs have their roots in the folk music of Bengal, but with a style of their own with elements from Sufi song and Hindu bhakti poetry. Typically the songs are accompanied by the dotara (5-string lute), the khamak drum, and a single-stringed drone instrument called the ektara. And there's assorted percussion as well.
This afternoon's programme features songs from Music of the Honey Gatherers, an album from Baul musician Paban Das Baul
Music details
Music of the Honey Gatherers - Paban Das Baul (World Music Network TUGCD 1056)
TRAD: Katha Kare Bolbo
TRAD: Kaliya
TRAD: Guru to Dayal
TRAD: Murshidi
TRAD: Gopon Prem
TRAD: Pagla Ghora
TRAD: Kon Ek Pakhi
TRAD: Prem Katha Ti Shunte Bhalo
TRAD: Shobure Mewa Pholey