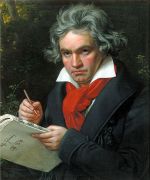 Beethoven was uncharacteristically unsure of his talents as a composer of vocal music: "When sound stirs within me I always hear the full orchestra; I know what to expect of instrumentalists, who are capable of almost everything, but with vocal composition I must always be asking myself: can this be sung?"
Yet, it was with voices that Beethoven capped an astounding career.
With the Missa Solemnis, the song-cycle An die Ferne Geliebte, the Ninth Symphony and even the String Quartet Op 132 which contains a song without words in the 'Convalescent's Holy Song of Thanksgiving to the Divine Being', he confronted his own personal silence.
His use of voices must have come from a deep desire to communicate directly with the society from which his deafness had isolated him.
Music Details:
BEETHOVEN: An die Ferne Geliebte (Decca 444 817)
Adelaïde (Orfeo C140501A)
Mir ist so wunderbar, from Fidelio (Decca 4782551)
An die Ferne Geliebte (Decca 444 817)
Kyrie, from Missa Solemnis (Arte Nova 87074)
4th mvt, from Symphony No 9 in D (Archiv 479 0358)
Dona nobis pacem, from Missa Solemnis (Arte Nova 87074)