Charlotte Wilson explores the tango music of Astor Piazzolla (1921-1992): bandoneón player, husband, composer, father, student of Nadia Boulanger, Argentine, womaniser and musical revolutionary.
Piazzolla was only interested in writing tango his own way. Tango had always been dance music, but he didn't care if anyone could dance to it or not. Piazzolla was interested in the music, not the steps.
Astor Piazzolla was the man who more than anyone else, in the late 20th century, popularised tango, on the world stage. He reinvented it: he moved it from the dance hall to the concert hall, he changed its history forever. And now, tango has infiltrated every musical sphere, from the pop arrangements of the 80s, to French techno, to the repertoire of classical musicians such as Daniel Barenboim and Yo Yo Ma.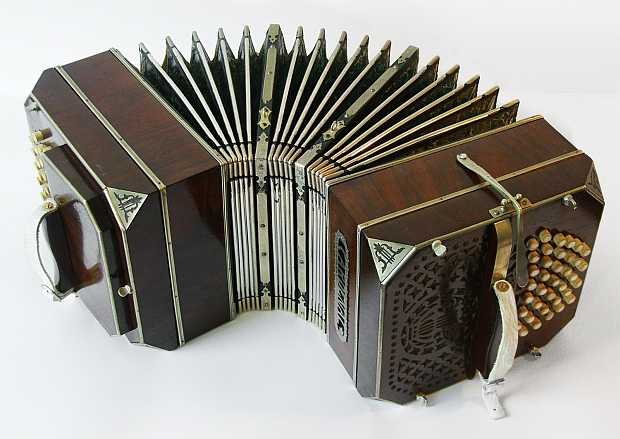 Curved bandoneón. Image: Pavel Krok (CC BY-SA 2.5)
Music Details:
PIAZZOLLA: Libertango - Yo-Yo Ma (cello), Kathryn Stott (pno), Nestor Marconi (bandoneón), Antonio Agri (vln), Horacio Malvicino (gtr), Hector Console (dbass) (Sony SK 63122)
PIAZZOLLA: La Cumparsita  - Carlos Gardel (Nimbus NI 7896)
PIAZZOLLA: Tres Minutos con la Realidad - Yo-Yo Ma (cello), Kathryn Stott (pno), Nestor Marconi (bandoneón), Antonio Agri (vln), Horacio Malvicino (gtr), Hector Console (dbass) (Sony SK 63122)
PIAZZOLLA: Escualo - SpiriTango Quartet (Paraty 914 130)
PIAZZOLLA: Buenos Aires - Nashville SO (Naxos 8.572271)
PIAZZOLLA: Concierto para bandoneón - 9444 - Astor Piazzolla (bandoneón), Orch of St Lukes (Nonesuch 7559 79174)
PIAZZOLLA: Adios Nonos - Juan José Mosalini (bandoneón), Osvaldo Calo (pno), Leonardo Sanchez (gtr), Otto Derolez (vln), I Fiamminghi (Telarc CD 80526)
PIAZZOLLA: Yo Soy Maria - Coral Lirico Buenos Aires, Kremerata Musica/ Gidon Kremer (Teldec 3984 20632)
PIAZZOLLA: Balada para un Loco - Versus Ensemble (Naxos 8.570523)
PIAZZOLLA: Portenas - Nashville SO (Naxos 8.572271)
PIAZZOLLA: Contrabajissimo - Gary Burton (vibraphone), Fernando Suarez-Paz (vln), Marcelo Nisinman (bandoneón), Pablo Ziegler (pno), Horacio Malvicino (gtr), Héctor Console (bass) (Concord Jazz CCD 4887)
PIAZZOLLA: Suite for Bandoneon - 5553 - Camerata Bariloche (Dorian DOR 90201)
PIAZZOLLA: Le Grand Tango - Yo-Yo Ma (cello), Kathryn Stott (pno), Nestor Marconi (bandoneón), Antonio Agri (vln), Horacio Malvicino (gtr), Hector Console (dbass) (Sony SK 63122)