Born in Tauranga, Martin Lodge studied English and German at the University of Waikato. He moved to Wellington to learn Composition from Douglas Lilburn and David Farquhar, and subsequently maintained a freelance career as a composer, teacher, conductor, editor, librarian – even as a post office clerk and a sous-chef.
After stints as the University of Otago 'Mozart Fellow' and the Auckland Philharmonia Orchestra 'Composer-in-Residence' in the early 90s, he was appointed to his alma mater to build a music department from the ground up. In twenty years at Waikato he's contributed to a brand new performing arts facility, a Māori Music stream in the Bachelor of Music degree, the accession of the John Mansfield Thomson Archive, and commissioning a set of taonga pūoro from master Māori instrument-maker Brian Flintoff.
Major works include Divisions for wind quintet and Sonatina for solo flute/piccolo from the late 1980s; Symphony No 1, Flowers of the Sea premièred by the Auckland Philharmonia Orchestra and recorded by the New Zealand Symphony Orchestra; Pacific Rock for solo viola; Winterlight, a 2008 bassoon concerto for Preman Tilson of the NZSO; and several pieces for taonga pūoro including Toru, Oiche ghealaí, and Hau. An album of his chamber music, Toru, was released in 2011 on Atoll Records.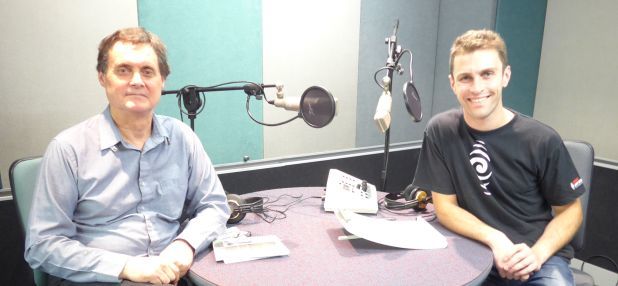 Martin Lodge talks to Robbie Ellis about his early influences, the precarious freelance life, the demands of teaching, his research into Anthony Watson and John Mansfield Thomson, and a serious recent near-death experience. He also connects to the likes of Hirini Melbourne, Richard Nunns, James Tennant, Jack Body, Ross Harris, Vincent O'Sullivan, Timothy Deighton, William Dowdall, Nicola Baker, Horomona Horo, William Dart and more.
Music details:
LODGE: Toru – Richard Nunns (taonga pūoro), Peter Scholes (cl), James Tennant (cello) (Atoll ACD 143)
LODGE: Plenum – Christopher Hainsworth (org of St Mary of the Angels, Wellington) [private recording]
LODGE: Divisions for wind quintet – Joanne Averill (fl), Gudrun Scharnke (ob), Debbie Rawson (cl), Michael Burns (bsn), Nicola Baker née Averill (hn), Martin Lodge (cond) (RNZ, rec. 3 July 1987)
LODGE: Symphony No 1, Flowers of the Sea – New Zealand SO/Kenneth Young (RNZ, rec. 3 September 1998)
A WATSON: Sonata for solo viola – Tim Deighton (vla) (Atoll ACD 202)
LODGE: Pacific Rock – Tim Deighton (vla) (Atoll ACD 202)
LODGE: Winterlight – Preman Tilson (bsn), New Zealand SO/Julia Jones (RNZ, rec. 25 July 2008)
LODGE: Feadóg mhór í oiche ghealaí – William Dowdall (afl/flutes), Richard Nunns (taonga pūoro) [private recording]