Andrzej Panufnik established himself as one of the foremost conductors and composers in Poland in the middle of last century but became alienated from the doctrine of "socialist realism" in art that was dictated from Soviet Russia after 1950. In 1954, he and his then wife executed a carefully planned but highly dangerous escape to the UK where he lived for the rest of his life. He returned to Poland only once, a year before his death and was welcomed like a returning hero.
The cruel irony was that although he was regarded as a radical in Poland before his defection and his music banned, his arrival in Britain coincided with a change in artistic direction at the BBC spearheaded by William Glock. The leading avant-gardists were now to be supported and Panufnik's Eastern European post-romantic style was not radical enough. Effectively banned again.
His music is intensely emotional. However, he had a love of geometric forms and would often prepare a diagram before composition to guide him with the structure of the work. As Robert Johnson says in this programme, 'These structures aren't dry intellectual constructs. Panufnik always began a new work with an impulse or "purpose". This was what generated the emotional content of the work. But before writing a single note, he felt the need to design a structure to support this content. Without a purpose-built vessel to contain such intense emotions, they would inevitably spill or dissipate. For Panufnik the intellectual underpinning for each new work was, in his own words, "a means to an end: an aid to expression – not a limitation of it".'
You can view some of these fascinating diagrams at the composer's official website: panufnik.com Please scroll down for Robert Johnson's recommended recordings.
Music details:
Panufnik: Symphony No 1, Sinfonia Rustica – Polish Radio SO/Borowicz (CPO)
Panufnik: Symphony No 9, Sinfonia di Speranza – Berlin Concerthouse Orch/Borowicz (CPO)
Panufnik: Violin Concerto  – Dmitry Sitkovetsky, New Eropean Strings CO (EMI)
Panufnik: Symphony No 2, Sinfonia Elegiaca – Berlin Concerthouse Orch/Borowicz (CPO)
Panufnik: Tragic Overture – Polish Radio SO/Borowicz (CPO)
Panufnik: Symphony No 1, Sinfonia Rustica – Polish Radio SO/Borowicz (CPO)
Panufnik: Symphony No 2, Sinfonia Elegiaca – Berlin Concerthouse Orch/Borowicz (CPO)
Panufnik: Symphony No 3, Sinfonia Sacra – Berlin Concerthouse Orch/Borowicz (CPO)
Panufnik: Symphony No 6, Sinfonia Mistica – Polish Radio SO/Borowicz (CPO
Andrzej Panufnik: Recommended Recordings
If the programme piques your interest to hear more from Panufnik, presenter Robert Johnson has put together a list of recommended recordings:
The majority of Panufnik's most important works are orchestral. CPO has put together a series of  8 CDs covering Panufnik's "Symphonic Works" over the past five years. The Polish Radio Symphony Orchestra and the Konzerthausorchester Berlin are conducted by Łukasz Borowicz, whose grasp of Panufnik's work is second-to-none. 
Panufnik: Sinfonia sacra; Sinfonia elegiac; Symphony No. 10
Konzerthausorchester Berlin/ Łukasz Borowicz
(CPO 7776832)
The best place to start if you're new to Panufnik's music is with Sinfonia sacra (Symphony No. 3), Sinfonia rustica (Symphony No. 1), and the two early Overtures – Tragic Overture and Heroic Overture. There are several highly recommendable recordings of Sinfonia sacra, which is probably Panufnik's most frequently performed work. The CPO recording is definitely among the very best, and it's coupled with equally fine performances of the Sinfonia elegiaca and the Tenth Symphony. 
The entire CPO series is strongly recommended, and anyone who takes a liking to Panufnik's music can go on with confidence to explore any of the other volumes.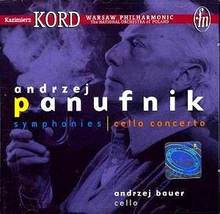 PANUFNIK: Sinfonia sacra; Cello Concerto; Symphony No.10
Andrzej Bauer (cello), Warsaw PO/ Kazimierz Kord
(Accord ACD072)
An equally superb performance of Sinfonia Sacra is given by the Warsaw Philharmonic Orchestra conducted by Kazimierz Kord on a recording on the Accord label, originally released in 2001. The couplings are the Cello Concerto (Panufnik's last completed work) and the Tenth Symphony. Currently this is available for download as MP3s.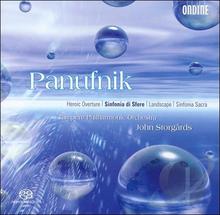 PANUFNIK: Sinfonia sacra; Sinfonia di sfere; Heroic Overture; Landscape
Tampere PO/ John Storgårds
(Ondine ODE 1101-5)
Finnish conductor John Storgårds directs an excellent account of Sinfonia sacra with the Tampere Philharmonic Orchestra on the Ondine label. It's a broader performance than any of the others, but provides an interesting alternative interpretation, particularly in the second movement (Hymn). The couplings are very fine performances of Sinfonia di sfere (Symphony No. 5), the Heroic Overture and Landscape.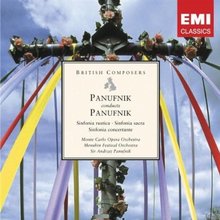 PANUFNIK: Sinfonia sacra; Sinfonia rustica ;Sinfonia concertante 
Aurele Nicolet (flute), Osian Ellis (harp), Monte Carlo Opera Orchestra & Menuhin Festival Orchestra/ Andrzej Panufnik 
​(EMI Classics 3 522892)
PANUFNIK: Sinfonia sacra; Arbor Cosmica
Concertgebouw Orchestra Amsterdam /Andrzej Panufnik; New York Chamber Symphony / Andrzej Panufnik
(Nonesuch 07559 7922868)
Panufnik himself directs two performances of Sinfonia sacra recorded in 1967 and 1987. The 1967 recording now appears on EMI Classics coupled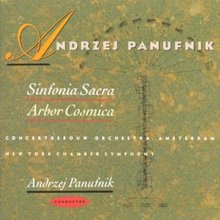 with Sinfonia rustica and the Sinfonia concertante (Symphony No. 4). The Monte Carlo Opera Orchestra was not the most refined ensemble in the world, but Panufnik was a very fine conductor and got the best out of them. His 1987 recording for the Nonesuch label was with the Concertgebouw Orchestra Amsterdam, and the quality of the orchestral playing in this is outstanding. However, some commentators prefer the broader tempo for the second movement in Panufnik's earlier recording; I enjoy both. The Nonesuch recording is coupled with Arbor Cosmica, Panufnik's 1983 work for 12 solo strings or string orchestra.
As well as Panufnik's own recording of Sinfonia rustica mentioned above, there is now a very fine modern recording as part of the CPO series. The couplings are the only available recordings of Polonia (an uncharacteristically "populist" work written as a tribute to Polish folk music) and the 1947 Lullaby for 29 string instruments and 2 harps, together with an excellent performance of the Sinfonia concertante.
Other recommended recordings:
PANUFNIK: Homage to Polish Music - Old Polish Suite for string orchestra; Concerto in Modo Antico; Jagiellonian Triptych for string orchestra; Old Polish Music, Divertimento after Janiewicz; Hommage à Chopin
Igor Cechoco, (trumpet), Hanna Turonek, (flute), Polish Chamber Orchestra/ Mariusz Smolij
(Naxos 8.570032)
PANUFNIK & LUTOSŁAWSKI: String Quartets - PANUFNIK: String Quartets Nos. 1-3; LUTOSŁAWSKI: String Quartets
Tippett Quartet
(Naxos 8.573164)
Andrzej & Roxanna Panufnik: Reflections – Complete Solo Piano Works
Twelve Miniature Studies; Hommage à Chopin; Pentasonata; Modlitwa; Second Home; Glo; Reflections
Clare Hammond (piano)
(BIS Records SACD BIS2003)