Blue Smoke for Sunday 5 June 2011
The earliest 'pop' recordings were of Maori and throughout the development of New Zealand popular music, Maori musicians dominated the industry.
1:00 PM.In this episode Chris Bourke covers Maori pop music pioneers such as Ana Hato, Dean Waretini, the Tahiwis, the influential guitar teacher and songwriter Walter Smith, and the legendary Campbell… Read more Audio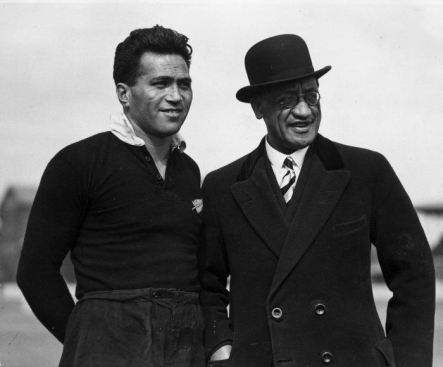 George Nepia and Kingi Te Ahoaho Tahiwi, ca 1935. Photograph taken probably in 1935 at the Sydney Cricket Ground showing George Nepia and Kingi Te Ahoaho Tahiwi just before a Maori v New South Wales match. Photo courtesy Alexander Turnbull Library, Reference Number: 1/2-C-22477-F.
Music Details - Beneath The Maori Moon:
Track: Good Evening (Good Morning)
Artist: The Maori Volcanics
Composer: Moir
Album: The Volcanics Live! at the Broderick Inn
Catalogue Number: Revolution RVLP 1001
Track: Hine e Hine
Artist: Ana Hato
Composer: Te Rangi Pai
Album: Legendary Recordings 1927-1949
Catalogue Number: Kiwi Pacific CDSLC242
Track: E Puru Taitama
Artist: Tahiwis
Composer: Kingi Tahiwi
Album: Historic 1930 Recordings
Catalogue Number: Atoll A9801
Track: E Puru Taitama
Artist: Epi Shalfoon's Melody Boys
Composer: Kingi Tahiwi
Source: Dennis Huggard collection
Track: Come on a My House
Artist: Reo Shalfoon with Epi Shalfoon Band
Composer: Bagdasarian-Saroyan
78rpm disc: Tanza Z95
Track: Beneath the Maori Moon
Artist: George Nepia
Composer: Walter Smith
78rpm disc: Decca F 5906
Track: 12th Street Rag
Artist: Martin Winiata and Julian Lee, 1935
Composer: Euday L. Bowman
Private recording
Source: Dennis Huggard collection
Track: Maori Battalion Marching Song
Artist: Maori Battalion
Composer: Allen-Sheafe-Amohau
Album: Ake, Ake, Kia Kaha E!
Catalogue Number: Atoll ACD 206
Track: Blue Smoke
Artist: Pixie Williams and the Ruru Karaitiana Quintet
Composer: Ruru Karaitiana
Album: Nature's Best
Catalogue Number: Epic 5054952000
Tack: Let's Talk it Over
Artist: Pixie Williams and the Ruru Karaitiana Quintet
Composer: Ruru Karaitiana
78rpm disc: Tanza T4/1
Track: Tawharu Quintet
Artist: Kia Ora Katoa
Composer: Freedman
78rpm disc: Tanza Z132
Track: Mark's Boogie
Artist: Mark Kahi
Composer: Mark Kahi
78rpm disc: Tanza Z83
Track: Twist Train Boogie
Artist: Tommy Kahi
Composer: Tommy Kahi
Album: Early Rock'n'Roll from New Zealand vol 3 & 4
Catalogue Number: Collector CLCD7754/A/B
Track: 'Look What You Done'
Artist: Johnny Cooper
Composer: Johnny Cooper
78rpm disc: HMV HR61
Track: Haka Boogie
Artist: Morgan Clarke & Benny's Five
Composer: Lee Westbrook
Album: Pie Cart Rock'n'roll
Catalogue Number: DZEROX 02
Track: Keep Your Eyes on the Hands
Artist: Millie Bradfield
Composer: Todaro-Johnston
Album: Kiwi Nostalgia Hits of the 50s
Catalogue Number: BMG 139283
Track: There's a Goldmine in the Sky
Artist: Gene Autry
Composer: Nick Kenny-Charles Kenny
Album: The Western Collection: 25 Cowboy Classics
Catalogue Number: Varese 066271
Track: Hoki Mai
Artist: Howard Morrison Quartet
Composer: Waitoa
Album: The Very Best of the Howard Morrison Quartet
Catalogue Number: EMI 5968442
Track: Save My Soul
Artist: Eddie Howell
Composer: J Scott
Album: Early Rock'n'Roll from New Zealand vol 7 & 8
Catalogue Number: Collector CLCD7756/A/B
Track: The Little Fly
Artist: Kahu Pineaha
Composer: Lyons
45rpm disc: Prestige PSP 0128
Track: I Could Have Danced All Night
Artist: Ricky May
Composer: Lerner-Loewe
Album: Kiwi Nostalgia Hits of the 60s
Catalogue Number: BMG 49762
Track: O Sole Mio
Artist: Isobel Cowan
Composer: Di Capua
45rpm disc: Kiwi SA54
Track: Begin the Beguine
Artist: Maori Hi Five
Composer: Cole Porter
Album: The Maori Hi Five
Catalogue Number: Leedon LL30544
Track: Send for Me
Artist: Maori Hi Five
Composer: Ollie Jones
Album: The Maori Hi Five
Catalogue Number: Leedon LL30544
Track: Pokarekare
Artist: Gerry Merito
Composer: Tomoana
Album: I Must Have Been a Beautiful Spaceman
Catalogue Number: Impact IMP 1