The Ukulele

Ukulele CC BY-SA 3.0 Arent
We focus on the the toddler of stringed instruments, the humble ukulele
in The Secret Life of The Ukulele Musician Karl Steven investigates the toddler of stringed instruments, exploring its past, present, and future, with particular attention to its unique place here in the South Pacific.
In Global Sounds - Ukuleles Megan Collins explores all the places this most-travelled instrument has ended up.
The ubiquitous instrument has made something of a comeback here in recent years, in large part due to Play it Strange Trust CEO Mike Chunn's campaign to replace the recorder with the ukulele as the first instrument taught in schools. Here Mike Chunn and some young friends play ukuleles live on Nine to Noon.
Ukulele lessons in the Radio New Zealand collection include:
Music 101's Kirsten Johnstone has an on-air ukulele lesson with Mike Dickison, author of Kiwi Ukulele.
Standing Room Only's Lynn Freeman joins the Wellington Community Choir's ukulele class.
A  combination ukulele and Te reo Māori class at Hau Ariki Pa in Martinborough.
A prominent musician in the Wellington music scene of the 1950s and 1960s, Phil Campbell  jams a couple of tunes with Maraea Rakuraku on his ukulele, whilst recalling some of the Māori songs popular in his heyday.
The Ukulele is a community-friendly instrument, and on any given weekend, you will most likely be able to find a ukulele band or even a ukulele orchestra playing somewhere.
In Thames Stewart Taipari teaches the Ukulele and is a founding member of Ukes on Fire.
Palmerston North recently had a festival dedicated to the little instrument, with concerts, church services and even an art exhibition.
and in Christchurch's New Brighton, a suburb that's been a little down on its luck after the quakes, the Friday night ukelele jam keeps the community humming.
The New Zealand Ukulele Festival takes place in late November in Auckland.
Performances
The beauty of the Uke is that it is relatively easy to learn, and sounds great in a group. Here are some performances from our collection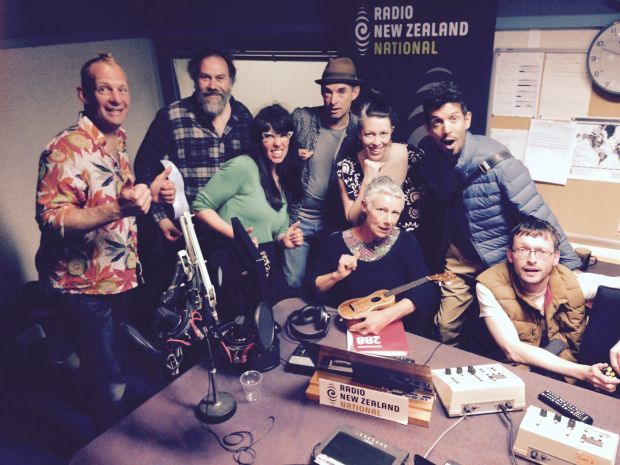 Kim Hill was joined by the Wellington International Ukulele Orchestra who played some favorite tunes and shared photos of their 2014 tour of China and Japan.
Dent May from Mississippi charmed us with his showmanship and gorgeous voice at Camp A Low Hum 2010.
Auckland band The Nukes play a session for NZ Live on Afternoons with Simon Mercep
San Franciscan Uni and her Ukulele spent a day chasing rainbows and unicorns around Auckland.
Canadian uke master James Hill and cellist Anne Davison play for Kathryn Ryan on Nine to Noon.
Beyond music, the Ukulele's place in popular culture includes children's stories like Iris's Ukulele by Kathy Taylor and art such as this photo gallery for 30 Ukulele 30 Artists where artists transformed ukuleles for an exhibition in Northland.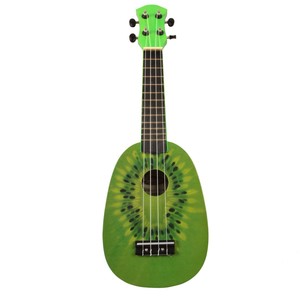 Kiwifruit ukulele by Leilani Ukuleles.